Intellian and SK Telink set to transform small vessel market with 45cm service over Intelsat FlexMaritime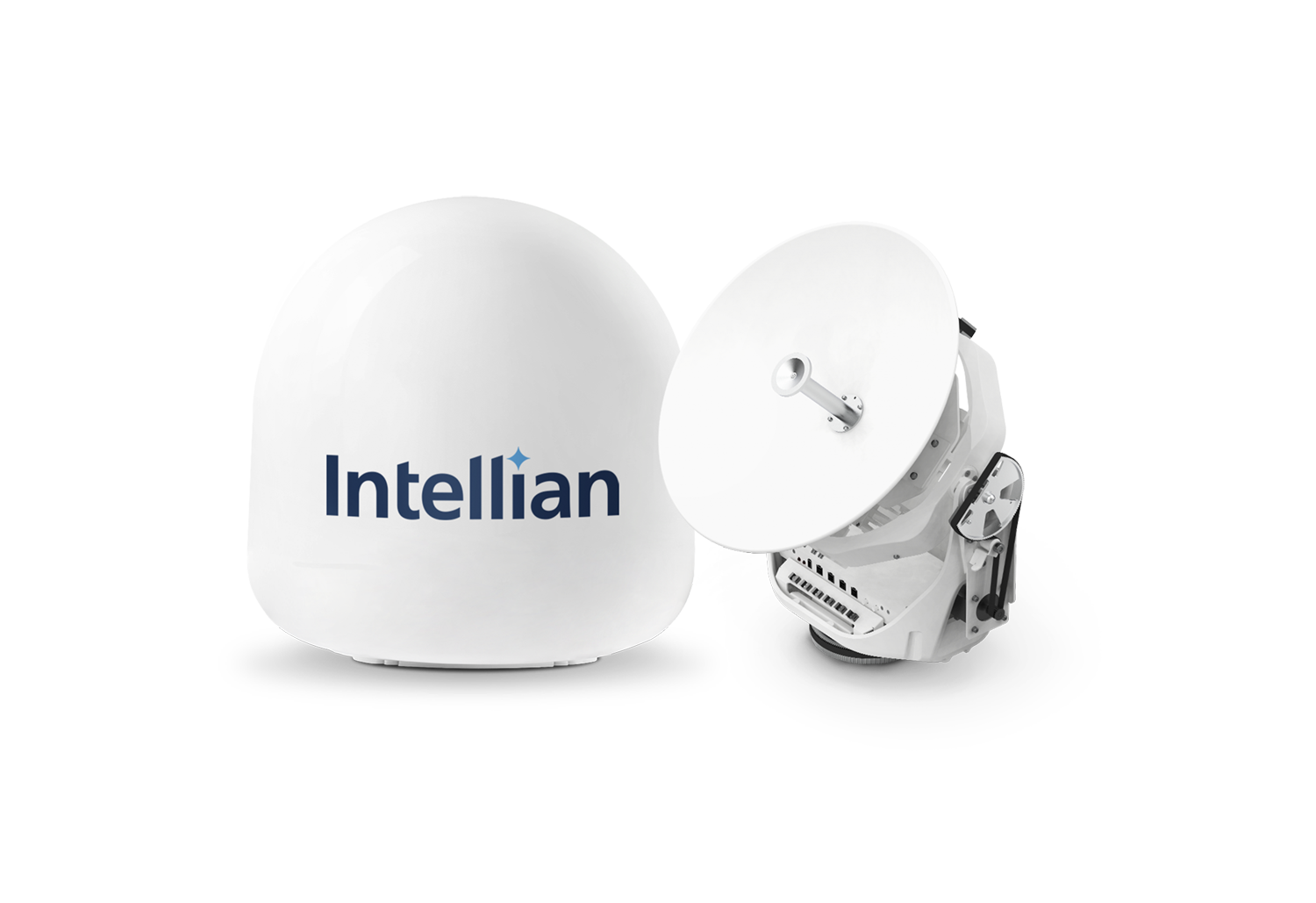 Pyeongtaek, South Korea, June 22, 2023 – Intellian Technologies Inc., a global provider of resilient multi-constellation, feature-rich satellite user terminals and communications solutions, and SK Telink, a 100% subsidiary of SK Telecom and a dominant mobile network operator in South Korea, together have announced a new agreement for the supply of Intellian's v45C terminal for use over Intelsat's FlexMaritime service.
By combining Intellian's compact, high-performance v45C antenna with Intelsat FlexMaritime global, multi-layered high-throughput satellite (HTS) service, SK Telink is the first to deliver this connectivity to Asia Pacific customers, in the smallest form-factor available to date.
SK Telink's FlexMaritime and v45C plan will change the connectivity landscape for thousands of smaller fishing vessels across the region. It will provide VSAT services to those that couldn't avail of onboard connectivity and had to rely solely on LTE (long-term evolution) when close to shore.
Until now, service providers have required antennas of 60cm or larger to deliver high throughput services owing to the higher power demanded by smaller units. However, with the advent of HTS technology and innovative antenna design, the use of more compact antennas has become possible. Intellian's v45C has been developed to bring VSAT to new markets where there is limited space available for communications equipment to be installed, such as workboats, leisure craft, fishing boats, small commercial and government vessels.
Shin-yong Lee, SVP of Satellite Business at SK Telink, said: "We're pleased to launch our new 'Compact VSAT' service, enabling smaller vessels to expand their connectivity beyond land mobile network coverage and enjoy digital life such as internet, games, social media and video calls with high-quality satellite communication services. We are continuously developing new satellite markets in the Asia Pacific region, by rapidly introducing satellite services that customers need."
"Our 45cm service on FlexMaritime is a unique offering in the maritime market," said Intelsat Director of Maritime Products Mike McNally. "Now, smaller fishing vessels can easily and affordably access the same great connectivity as their larger counterparts. Partnering with SK Telink and Intellian, users will experience unmatched performance, reliability and coverage wherever they go, enabling even more vessels around the world to take advantage of the high-throughput capabilities of Intelsat's global network. Access to connectivity will enable critical applications such as worker safety, general crew welfare, real-time fish processing, weather and oceanographic data, crew communication and more."
James Jang, VP of Global Sales at Intellian: "We've seen in other regions how the combination of our v45C and Intelsat's innovative FlexMaritime services have delivered cost-effective VSAT service to customers in need of a compact, global high speed connectivity solution. SK Telink is once again leading the way, delivering the best of connectivity solutions for their customers across the APAC region and we're excited to be part of this transformation. Having reliable connectivity on board changes the lives and livelihoods of those in the fishing industry. We're honoured to partner with SK Telink, and together empower connectivity for crew welfare and business operations so those on board can experience VSAT for the first time."  
 About Intellian Technologies, Inc.
Intellian is driven by a passion for innovation and an agile responsiveness to customer needs. As the crucial link between satellite networks and millions of people on Earth, Intellian's leading technology and antennas empower global connectivity across oceans and continents, organizations and communities. Strategic thinking, an obsession with quality and a proven ability to deliver enables Intellian to invent for the future, creating mutual success for partners and customers as the world's connectivity needs evolve. For more information, follow @intellian and visit intelliantech.com. Intellian Technologies Inc. is listed on the Korean Stock Exchange, KOSDAQ (189300:KS)
About Intelsat
Intelsat's global team of professionals is focused on providing seamless and secure, satellite-based communications to government, NGO and commercial customers through the company's next-generation global network and managed services. Bridging the digital divide by operating one of the world's largest and most advanced satellite fleet and connectivity infrastructures, Intelsat enables people and their tools to speak over oceans, see across continents and listen through the skies to communicate, cooperate, and coexist. Since its founding six decades ago, the company has been synonymous with satellite-industry "firsts" in service to its customers and the planet. Leaning on a legacy of innovation and focusing on addressing a new generation of challenges, Intelsat team members now have their sights on the "next firsts" in space as they disrupt the field and lead in the digital transformation of the industry.
About SK Telink
SK telink is a 100% owned subsidiary of SK telecom who is a dominant mobile network operator in South Korea. While SK telecom provides a domestic mobile service, SK telink provides a diverse array of wired and wireless telecommunications services such as International Direct Dialing, Mobile Virtual Network Operator(MVNO) and Satellite Communication Service. Based on these kinds of services, they seek to expand its business through driving a new project that combines international and satellite communications to enhance its capabilities to respond to market needs. Ultimately the company aims to become a "Global Borderless Telco" that provides uninterrupted cross-border communications through investment in core infrastructure and aggressive market penetration as the only satellite communication operator within SK Group.