Shifting data processing to shore enables smarter operation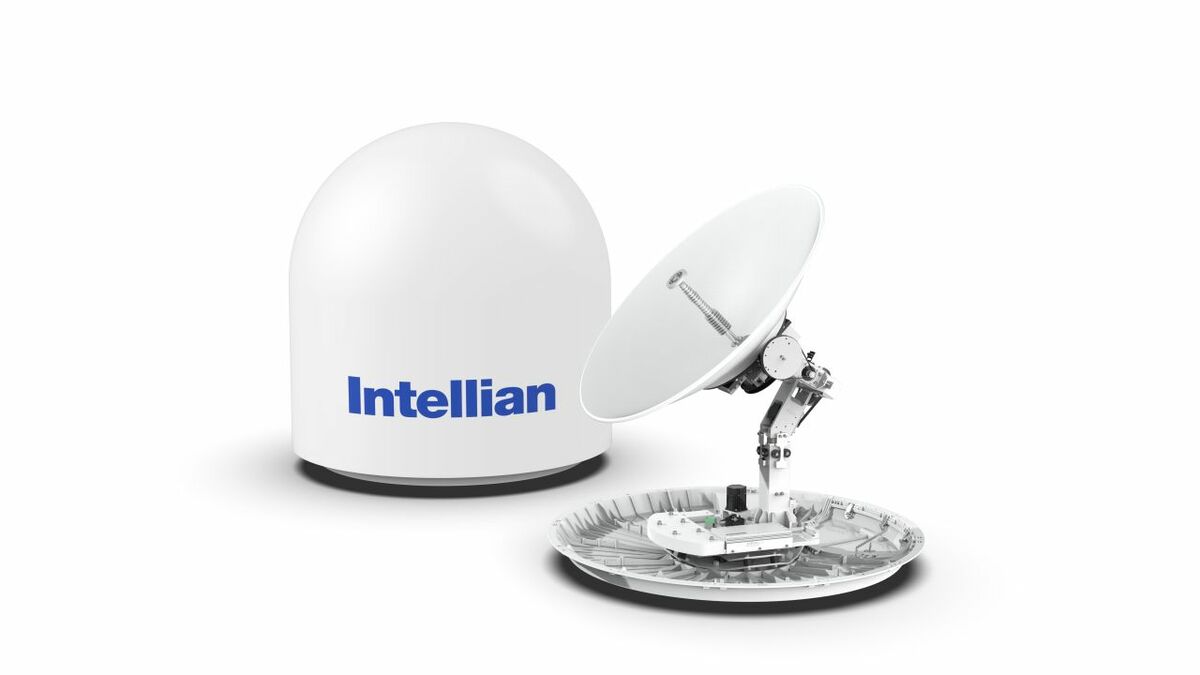 CONNECTIVITY The reliance on communications is prompting VSAT manufacturers to rethink their products and logistics to match. In order to process the vast amount of information generated on board, data should be sent ashore, according to Intellian, a provider of satellite antenna systems.
Processing demands of data generated on board become more complex to manage and grow dramatically. One solution to tackle and make use of the vast amount of onboard data is to package and send it to a shore-based facility. Faster, more powerful processing power can enable more efficient real-time voyage plans and data monitor-ing for entire fleets. This not only ensures optimum efficiency for single hips but also for integrated operations.
This reliance on communications has led to onboard connectivity becoming less of a luxury and more of a commodity, prompting VSAT manufacturers to rethink their products and logistics to match. Satellite antenna provider Intellian says its flagship NX Series demonstrates how complex technology can be made accessible, flexible, versatile and, in essence, 'plug and play'.
Key to the NX specification is its multi-band, multi-orbit credentials. Easily convertible between Ku- and Ka-band and with upgrade-able block up-converters (BUC) to boost band width, NX Series antennas can track satellites in geostationary (GEO), medium earth (MEO) and low earth orbits (LEO). At present, of the eight commercial networks currently available, four use GEO satellites, one uses MEO satellites and three use LEO satellites.
The current lower orbit networks mostly operate on L-band S-bands, with consequent bandwidth restrictions: the high bandwidth networks tend to use geostationary satellites. That situation looks set to change very soon, with at least six new networks either in the planning or launch stages, all of which use LEO or MEO orbits and operate in the Ku- or Ka-bands.
Lower orbits are popular for two main reasons, Intellian noted: latency and cost. LEO satellites can be placed into service for as little as USD 150,000, while the cost of putting a GEO satellite into orbit can run into billions. But it is the latency which is the key factor – LEO satellites typically orbit at an altitude of around 1,200km, making a signal round-trip time about 25ms. By contrast, a geostationary satellite – in orbit 35,786km above the Earth – has a signal round-trip time of around 500-1,500ms, introducing a noticeable and, depending on the application, sometimes serious delay into the service.
This shift towards LEO and MEO networks, some of which are scheduled to go live in months rather than years, makes the versatility of NX Series antennas a vital factor for customers, Intellian said. But it is not the only aspect that the Intellian team has considered.
"VSAT user terminals used to be very complex and expensive," said Jon Harrison, vice president and general manager at Intellian. "If you imagine a pyramid of addressable vessels requiring connectivity, VSAT was only used by the top sector – about 75,000 ships. Less complex and commoditised terminals cost a fraction of the price, so we're able to target the next layer of the pyramid, a much bigger market which could be up to 500,000 vessels. But to do that we need to deliver an easier onboard pack-age, not just an antenna."
Increasingly, service providers are expected to supply a complete equipment system, including the antenna and rack, simplifying the installation and often bringing down operational costs for the customer. Several major service providers have changed their focus away from just providing data capacity to delivering the 'connected vessel' and providing a virtual office environment.
Installation has also come-under the microscope – all NX antennas are now pre-slung in the shipping crate, and connect with a single cable carrying power, Tx and Rx signals. Once in position, browser-based AptusNX software built in to the antenna control unit facilitates commissioning using a wizard, and enables troubleshooting and diagnostics, both locally and remotely.
Demands of smart ships
Remote access is one of the drivers behind increased band width availability for smart ships. The amount of data that needs sharing to enable the management functionality of a smart ship is relatively small, but as soon as a video link is needed the requirements jump dramatically. This is becoming increasingly common – some companies share onboard CCTV footage with a shore-based control facility, while vessel management systems are starting to introduce video for remote diagnostics and even to aid onboard system repairs. For example, Kongsberg recently announced that all vessels using their Vessel Insight digitalisation service would have access to remote services whereby an engineer on shore could examine and diagnose ship systems, share screens and give advice. To deliver that kind of service, the bandwidth made possible by VSAT is essential.
Video usage is also increasing for training, video manuals, crew communications and entertainment, with an already growing demand exacerbated by the recent pandemic. "With more and more smart ships on the water and the crisis having made people realise how much can be achieved online, and the costs that saves, we expect growth in the commercial sector," said Harrison.
Smart technology is here to stay and the next stage, Harrison believes, is to introduce standardisation. Increasing regulation – combined with height ended environmental awareness – is driving the monitoring of hazardous cargo and pollutants from combustion, black and grey water, in addition to the checking of essential systems such as watertight doors. However, with ship systems using a range of disparate communications protocols, full integration is a challenge and could be greatly simplified with standardisation.
The Smart Maritime Network Council, of which Intellian is a part, is keen to promote this as a matter of priority. "The benefits of smart ships are manifold," said Harrison, "but as the technology grows and matures, we need standards to make the most of its abilities in the future."
Read the original article here
About Intellian Technologies
Intellian is a leading global technology and solutions provider for satellite communications, empowering connectivity for the maritime, government, military, energy, cruise and enterprise sectors. Founded in 2004, Intellian is renowned for its innovative design, future-proofed technologies and outstanding customer support, which combined with continued investment in its partners, logistics network, quality control and low environmental impact production facilities make it a trusted enabler within the satellite communications industry. Its bold, pioneering solutions include the award-winning v240MT – the world's first tri-band, multi-orbit antenna system – and the future-proof NX series antennas, optimized for high performance and low cost of ownership.
Intellian has a global presence with over 400 employees, 12 regional facilities and five logistics centers on three continents. The Intellian 24/7 global support desk provides dedicated assistance to 550 service provider partners and their customers in mission-critical environments. Intellian Technologies Inc. is listed on the Korean Stock Exchange, KOSDAQ (189300:KS).
More information may be found at www.intelliantech.com