Intellian wins Satellite Technology of the Year Award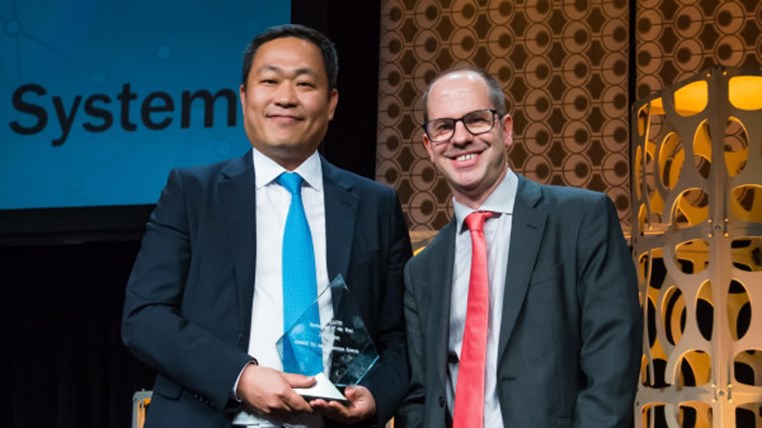 As the world's first 2.4 meter tri-band and multi-orbit maritime VSAT antenna system, the Intellian v240MT was sure to attract attention from around the world and there are already more than 100 of these antennas providing redundant, resilient and high-speed data to guests and crew on oil rigs, cruise ships and survey vessels.
In recognition of its ability to operate with Geostationary (GEO), Medium Earth Orbit (MEO) and Low Earth Orbit (LEO) satellites using C-, Ku- or Ka-band frequencies, and the game-changing flexibility and resilience this provides, the v240MT antenna was handed Via Satellite's inaugural Satellite Technology of the Year Award in May. The award winner was determined by a combination of expert judges and industry votes, and presented at the Satellite 2019 show in Washington, DC.
The judges recognised the unique ability of the v240MT to access nearly all available satellite constellations while anticipating demand from new GEO, MEO and LEO networks paves the way for a new era of high-throughput maritime connectivity.
Likewise, the v240MT's ability to provide the resilience and adaptability demanded to ensure cruise guests can access the Internet, while delivering unmatched global availability for the gigabytes of data shared during smart, safe offshore operations, were also key aspects of this cutting-edge solution being selected to win against some very strong competition.
More information may be found at www.intelliantech.com
About Intellian Technologies
Intellian is a leading global technology and solutions provider for satellite communications, empowering connectivity for the maritime, government, military, energy, cruise and enterprise sectors. Founded in 2004, Intellian is renowned for its innovative design, future-proofed technologies and outstanding customer support, which combined with continued investment in its partners, logistics network, quality control and low environmental impact production facilities make it a trusted enabler within the satellite communications industry. Its bold, pioneering solutions include the award-winning v240MT – the world's first tri-band, multi-orbit antenna system – and the future-proof NX series antennas, optimized for high performance and low cost of ownership.
Intellian has a global presence with over 400 employees, 12 regional facilities and five logistics centers on three continents. The Intellian 24/7 global support desk provides dedicated assistance to 550 service provider partners and their customers in mission-critical environments. Intellian Technologies Inc. is listed on the Korean Stock Exchange, KOSDAQ (189300:KS).