Intellian Technologies has played a key role in the rapid evolution of the satellite industry, but what does it take to stay at the top?
Published by Robban Assafina on 06 April 2022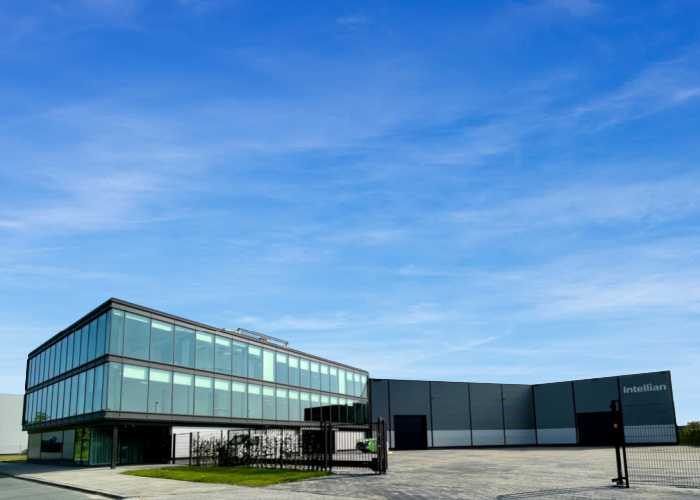 Jon, who joined the company in 2011, says that Intellian has never lost track of what it stands for: "taking complex, slow moving and potentially expensive issues, and making them stronger, future-proof and more cost effective." Passionate about all things satellite related, Intellian is empowering remote communications around the globe with futureproof technology, pioneering R&D, and the extensive ability to overcome challenges and provide robust, reliable communications for everyone, anywhere, anytime.
Looking at what Intellian has been able to offer over the past years, Kelly Edwards, Sales Manager for EMEA at Intellian, believes that the company is the worldleader in the industry. "Remaining there is a constant task, always innovating one day at a time, making incremental changes to keep ahead, working closely with our distribution partners globally and ultimately empowering our customers' businesses."
We had the pleasure of talking to Jon and Kelly in the UK, should any of us need reminding how remote communications technologies have rushed to the forefront of all our minds, on land or sea, over the last two years. On the subject of Intellian's relatively quick ascendancy to market leading status, Jon is characteristically analytical in his reasoning: "We have done very well since our foundation 18 years ago, but in 2016 we had the privilege of going public, which is quite unknown for such a young company.
"The purpose was not to have relatively shortlived capitalization on investment funding, but to create collateral to support our enriched R&D development. We put the funding that we raised directly into the development of a revolutionary breed of new products. We also invested heavily into our relationships with the network operators; we saw a new wave of technology coming, an evolution happening, and it takes years to design and implement this new, innovative breed of satellite constellations, launch them and put them into action. Yet despite the LEO, MEO (nongeostationary satellite orbits) constellations coming through, we still needed to support the current infrastructure. "
"Customers need the ability to operate a vessel and have a highly robust communication solution capable for now and the future, so the complexity is to produce products that could fully support the GEO networks now and the emerging GEO, MEO and LEO networks. This was the challenge, however, we rolled up our sleeves and invested heavily into it and we continue to do so. This was how the NX Series was born; it provides choice, as it eliminates the confusion and complexity from the business elements. Whether our customers choose GEO, MEO or LEO networks, the terminal is the same. That was a key decision in our successful path."
The satellite communications industry is evolving faster than ever and Jon is confident that Intellian can continue to maintain its position as the innovative market leader, bringing the very best products to the market. "In terms of Maritime market share, based on a series of independent statistics, we have over 55%. Even though that's clearly the biggest market share on paper, the key is to remain absolutely committed to deliver exceptional value to our partners and their customers.
"However, it is important to talk about the challenges; it isn't just about mastering the technology, which we clearly have the skills to overcome. It's also about taking the correct business decisions, at the right time." Meeting demand though is only possible if you can stay with the curve and provide the most highly advanced technologies as and when they develop, and ideally before your competitors do.
But that too is an area where Jon remains confident: "More recently there have been massive challenges in terms of global supply chains. Intellian has made every effort to invest heavily to help remove the worries around component availability for our production and made key buying decisions early on when we saw this potential risk. The demand is unprecedented, the new capacity and technologies coming online are very exciting. The satellite space has been evolving for some time, and it is incredible for Intellian to be part of this journey. Technology can be costly and is often difficult to facilitate, however, with persistence and even stronger investment, it's changing faster and better than ever, which creates far more empowerment for our partners and their customers. 'Plug and play' is the ideal product evolution, striving for a true out of the box, online feel. This is what products like the Intellian NX series are beginning to bring. It might take some years now to leverage the commoditization of satellite connectivity, but we are getting closer and we will make it happen."
"We have also invested into our infrastructure. Fundamental and significant investment on a cutting edge global infrastructure includes a new EMEA Headquarters and Logistics Center in Rotterdam and our flagship London facility which will be online in early March. A recent expansion of our Global Headquarters in Korea also displays our strong investment to ensure we're constantly at the forefront of innovation. With more to come soon, these strategic investments are all set to provide an even better level of service to our partners and our customers."
Kelly reinforces Jon's view: "Our new EMEA HQ is fantastic, this regional approach helps reduce the lead time for customers and gets our products out to market quicker. Our CEO is an extremely proactive, forward thinker, he has vision and he knows where we need to go and what products we need to bring to the market to reach our customers' needs and expectations."
Moving towards the regional view, Kelly is also confident about Intellian's growth in the Middle East: "Our position in this amazing part of the world has been fantastic in the last two years, and the numbers have responded well to the direction in which we have strived to develop. A good example is the energy market; we have seen a huge increase in the demand in the last 12 months, particularly for the larger antenna portfolio.
"We are seeing the shift in regional activities; oil extraction in the Gulf of Mexico is becoming more restricted and expensive, there is a continuous shift in political policies in the US and a notable change in activity in the Middle East and Africa regions so the demand to keep vessels connected is increasing significantly. This sector is going through a transformation. Digitalization has been a growing area for some time, but operators are adopting digitalization faster than they have done before. As an example, ship owners and operators are asked to streamline shipboard operations, minimize their costs, and a practical way to do so is to become far more technologically driven. That is where satellite communications manufacturers like Intellian can and will continue to come into play. When you're investing into satcoms you need to ensure it is future-proof and aligned with your longterm connectivity strategy. With Intellian, you're getting the best investment you can as reliability and future proof technology is in our DNA.
"Another great example is the new growth seen in the yachting market; since the spread of the pandemic, for those who can afford it, a yacht has been a potentially safer haven from COVID, so we see many new builds and retrofit projects emerge, as well as an increase in demand for futureproof technology. That is why customers are turning to Intellian, because they know that this has always been our focus.
Kelly says, the need to get connected and stay connected is driving the demand up, and this has only increased with the spread of the pandemic. Some of the older technology was rapidly found wanting, and this is where the NX Series comes in. So, these ideal products, combined with an excellent customer profile, means the Intellian brand is becoming increasingly prominent in the Middle East."
There's more to satellite connectivity than simply running the vessel, Kelly is quick to add: "Companies that have invested in connectivity for crew welfare have known of the benefits for years. Better personnel retention, happier and more rested crew. That connection back home for those onboard has become more important with COVID than ever before. And also, bandwidth for streaming content and news. Although operators must budget for such connectivity, I think crew welfare is a priority now in the mix of operational costs."
"Yes, exactly", Jon agrees, "excellent, reliable connectivity is a must now, why should anyone suffer and not be connected? Why make compromises? This has become more about fulfilment of life when away from home and a positive mental health is something that we should all consider and support. The crew must have a positive mental state with proper connectivity, talk to their families with the ability to see them when they are thousands of miles away from home for months on end."
With this ever-increasing need for connectivity and reliability of connection, are new market segments opening up for the satellite communications providers, we wondered? Jon's view is to look for challenges in existing markets and try to make the Intellian offering the easiest choice, even commoditize it. "If you look at the industry, it was quite stagnant for decades, very little and conservative technology investments. Products were relatively large, highly expensive and potentially only reserved for the larger enterprise customers. Intellian has contributed positively and we will continue to exceed our obligations and do our part to the best of our ability, pushing the market to evolve in a healthy direction. Our objective is to take this same, innovative approach and apply it to other markets, hopefully contributing to a better quality of life for our customers and their customers. There are many hard-to-reach areas in the world, and with the success we have brought into the maritime electronics ecosystem, will definitely drive us into new areas of business."
"But it's not just maritime" Kelly adds. "For those ashore, our new enterprise solutions mean we can now also solve customer's connectivity challenges across a whole range of new markets across the Middle East. This means we'll be strengthening our existing partner relationships but also developing new partnerships beyond maritime, into these new markets."
Kelly concludes "For us, it's about delivering the best technology for satellite communications across every sector – really empowering connectivity. No matter where you are or what your needs are, we're working hard to ensure our customers always have the best solutions."
Read the full article here.