Announcing the second member of Intellian's family of WGS terminals
The ARC-M4 Block 1 Naval terminal to be unveiled at Satellite 2023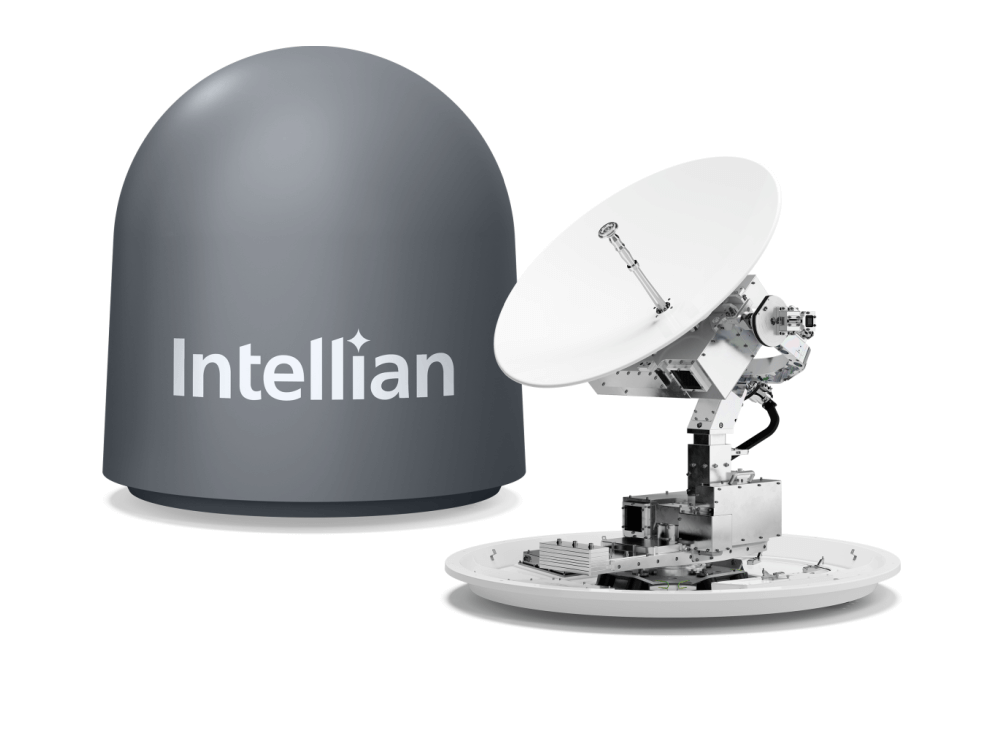 WASHINGTON, D.C., USA. March 15 2023 – Intellian Technologies Inc., a leading global provider of feature-rich, resilient satellite communications solutions, will unveil their ARC-M4 Block 1 terminal at Satellite 2023 in Washington, D.C. Providing simultaneous X- and Military Ka-bands plus all commercial Ka, the Block 1 marks the next extension of Intellian's Wideband Global SATCOM (WGS) certified products. 
WGS is a high-capacity United States Space Force satellite communication system, developed by the US Department of Defense and now includes partnerships with Canada, Australia, The Netherlands, New Zealand, and other member nations. WGS Phase 1 testing has been completed and the terminal is expected to be approved for use on the WGS constellation by Q2 2023.
Intellian's ARC-M4 Block 1 is a tri-band terminal for X-band, MIL Ka-band and ultra wide 2.5GHz commercial Ka-band networks. Naval customers can utilize simultaneous X-band and Ka-band transmit and receive when operating on a WGS satellite, giving unprecedented layers of resilient connectivity and throughput for mission critical operations.
ARC-M4 stands for Advanced Resilient Communications, Multi-mission, multi-role, multi-band and multi-orbit. It's designed for operation on LEO, MEO, GEO and HEO satellite orbits. 
Built as a follow on terminal to the Intellian's v130NX  PM Dual Ka Block 0 terminal (AN/USC-73), the ARC-M4 Block 1 was developed with a "family of terminals" concept in mind keeping the importance of common CONOPs, common doctrine, ILS, sparing, and preventative maintenance across different antenna types and mission sets. The Block 1 incorporates the Intelligent Mediator 8 enabling users to electronically switch between waveforms, frequency bands, constellations, and orbits.
The ARC-M4 family of terminals are all designed to support full SATCOM shipboard automation through the implementation of Intellian's groundbreaking Orchestra - the first Naval policy-based connectivity management suite.
Orchestra is a 3-tier connectivity policy creation, enforcement, and management system designed for high-intensity mission-critical and highly complex shipboard environments. It alleviates the need for manual intervention to swap frequencies, constellations, waveforms, or orbits in order to maintain connectivity.
The ARC-M4 family of terminals are commercially off the shelf and available now in volume production. Orders are being accepted for CY 2023 delivery for both v130NX PM Dual Ka Block 0 and ARC-M4 Block 1.
Sam McKee, General Manager and VP of Sales for Intellian USA said: "Intellian collaborated closely with the US Navy to develop the ARC-M4 family of terminals. The Block 1 terminal is the first simultaneous X- and MIL Ka-band terminal to have ever undergone the WGS Certification process. We're delighted to be unveiling this new technology at Satellite 2023 because we understand how valuable this family of WGS terminals can be for our US Naval customers but also the impact these systems will have on all US-allied Global Navies."
About Intellian Technologies, Inc.
Intellian is driven by a passion for innovation and an agile responsiveness to customer needs. As the crucial link between satellite networks and millions of people on Earth, Intellian's leading technology and antennas empower global connectivity across oceans and continents, organizations and communities. Strategic thinking, an obsession with quality and a proven ability to deliver enables Intellian to invent for the future, creating mutual success for partners and customers as the world's connectivity needs evolve. For more information, follow @intellian and visit intelliantech.com. Intellian Technologies Inc. is listed on the Korean Stock Exchange, KOSDAQ (189300:KS)