Intellian launches 60cm-Class GX Terminal with increased power, GX60HP
Intellian's compact, high power antenna received type approval on Inmarsat's Fleet Xpress service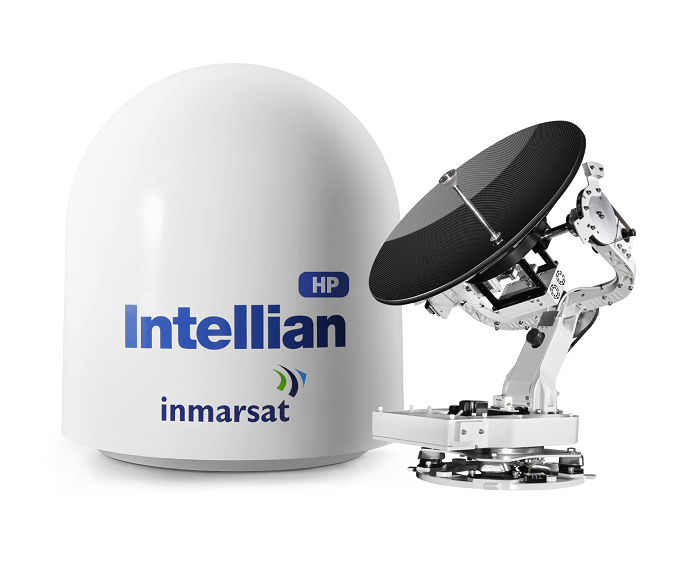 December 13, 2018 – Intellian, the world's leading provider of satellite communication antenna systems, introduces the new GX60HP, a 60cm-class compact Global Xpress terminal with higher power output.
The GX60HP is a 65cm Ka-band maritime satellite communication terminal with a 10W BUC option, type approved for use on Inmarsat's Global Xpress network for its maritime Fleet Xpress service.
The increased BUC output power of 10W on the Ka-band enables greater uplink throughput and a higher level of bandwidth in response to customer needs to enable a faster service at sea.
The GX60HP will help fulfill the demands for bandwidth by users in the oil and gas sector, commercial ships, superyachts and government users. It can also support dual antenna solutions using the Intellian GX Mediator to overcome blockage from onboard obstructions.
Intellian provides a 10W HP Upgrade Kit for its existing systems. The upgrade kit can be used on an existing GX60 to easily convert a 5W BUC to a 10W BUC using only four machine screws in as little as 10 minutes.
About Intellian Technologies, Inc
Intellian is the global leader of mobile satellite communication systems for maritime applications and a leading communication technology innovator for the government, military, energy, cruise and enterprise sectors. Founded in 2004, Intellian continues to invest in cutting-edge design, R&D, Quality Control, and advanced low environmental impact production facilities to deliver bold and pioneering solutions. These include the award-winning v240MT, the world's first tri-band, multi-orbit antenna system and the future-proof NX series antennas optimized for high performance and low cost of ownership.
Intellian has a global presence with over 400 employees, 12 regional facilities and 5 logistics centers on 3 continents. The Intellian 24/7 global support desk provides dedicated assistance to 550 service provider partners and their customers in mission critical environments. Intellian Technologies Inc. is listed on the Korean Stock Exchange, KOSDAQ (189300:KS).