Intellian introduces the all new 1 metre Global Xpress terminal, GX100NX
The new All-in-One BDT integrated with GX modem and mediator enabling simple installation and operation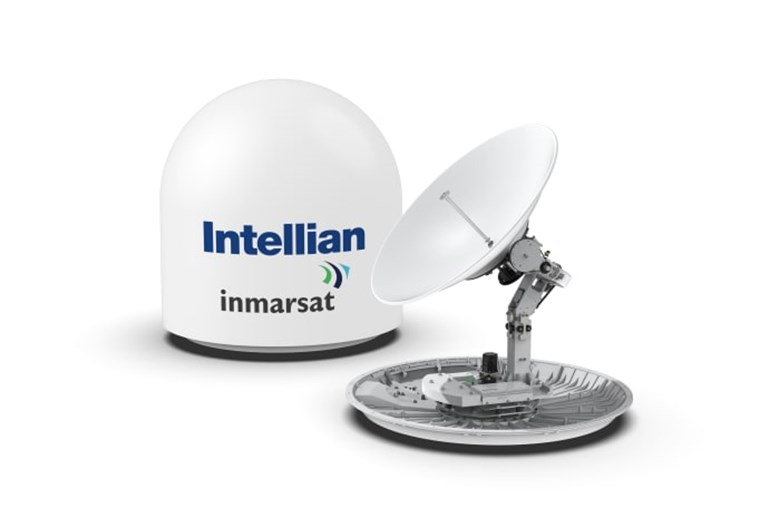 Intellian, the global leader of mobile satellite communication antenna systems, is unveiling the all new 1m Global Xpress terminal, GX100NX at Intellian Asia-Pacific Partner Event held in Seoul, Korea.
Intellian's all new 1m Global Xpress terminal has been designed primarily for Inmarsat's high-speed maritime satellite service Fleet Xpress and offers high-speed data rates and global operation with its high-efficient RF design.
The antenna is future-proof supporting 2.5GHz Wideband Ka networks with optimized reflector and radome, and also enables a higher level of bandwidth at sea with a 10W BUC option, which is simply upgradable with no additional components required when replacing.
With the new NX platform, GX100NX uses a single coaxial cable, which combines Tx, Rx, and DC power, to simplify installation. A cutting-edge modular design results in lower cost of ownership throughout the entire lifecycle, while improving reliability and streamlining maintenance. The antenna's new All-in-One GX Below Deck Terminal (BDT) integrates an antenna control unit (ACU), a modem, a power supply, a 4-port switch and a mediator in one to reduce time and cost during installation in Intellian's Fleet Xpress Rack.
Intellian also provides an upgraded antenna management and control platform, AptusNX. This new software presents an installation wizard with a step-by-step commissioning guide for easier setup, and with enhanced diagnostic capabilities the software can send an alert to the operator when predictive maintenance is required.
Eric Sung, CEO of Intellian, commented, "We're delighted to introduce the all new GX100NX to the valued partners and customers at our APAC partner event. With its future-proof and user-friendly design, our new Global Xpress terminal will deliver performance, installation and servicing benefits to diverse customers, especially those in the commercial shipping, oil and gas, and yachting markets."
The GX100NX is planned to be commercially available in June 2019.
More information may be found at www.intelliantech.com
About Intellian Technologies
Intellian is a leading global technology and solutions provider for satellite communications, empowering connectivity for the maritime, government, military, energy, cruise and enterprise sectors. Founded in 2004, Intellian is renowned for its innovative design, future-proofed technologies and outstanding customer support, which combined with continued investment in its partners, logistics network, quality control and low environmental impact production facilities make it a trusted enabler within the satellite communications industry. Its bold, pioneering solutions include the award-winning v240MT – the world's first tri-band, multi-orbit antenna system – and the future-proof NX series antennas, optimized for high performance and low cost of ownership.
Intellian has a global presence with over 400 employees, 12 regional facilities and five logistics centers on three continents. The Intellian 24/7 global support desk provides dedicated assistance to 550 service provider partners and their customers in mission-critical environments. Intellian Technologies Inc. is listed on the Korean Stock Exchange, KOSDAQ (189300:KS).