Intellian FleetBroadband Terminals Approved For Use In Japan
The leading FB500 terminal has received Japan's Technical Regulations Conformity Certification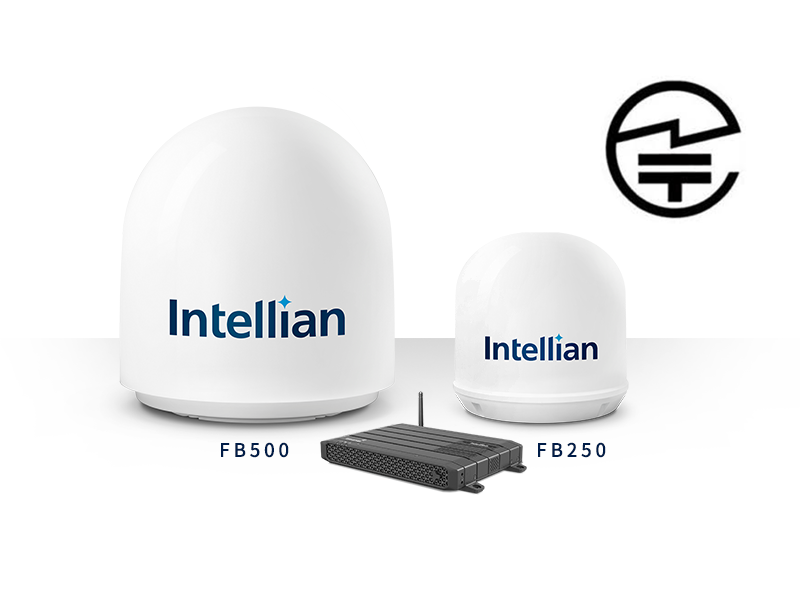 Pyeongtaek, South Korea – May 24,2023 – Intellian Technologies, a leading global provider of multi-constellation, feature-rich, future-proof satellite user terminals and communications solutions, has announced the approved certification in Japan for their FB500 terminal. The terminal successfully obtained the Japan Technical Regulations Conformity Certification issued by the Telecom Engineering Centre (TELEC). Intellian's FB500 certification joins the previously received certification for their FB250. 
Designed for use on Inmarsat's FleetBroadband (FB) service over their ELERA network, these certifications mean that Intellian's range of FB terminals is now fully approved for use for the Japanese maritime market. When paired with one of Intellian's popular GX60NX and GX100NX, this will enable Inmarsat's Fleet Xpress (FX) service to be utilized in major commercial shipping markets across Japan now that maritime customers can install the FB500 on Japanese flagged vessels, complying with the regulations in the market. Japanese registered vessels account for 11% of the world's fleet tonnage, making them one of the biggest in the world. This certification opens up this growing market, as well as Japan's thriving shipbuilding industry, to line fit Intellian FB500 and FB250 terminals on board.
The FB500 terminal from Intellian is a multifunctional L-band terminal that has been designed to work as part of an Inmarsat FX installation or as a fully featured stand-alone terminal. Supporting simultaneous voice and data connectivity up to 492kbps, the FB500 enables everything from vessel operations to enabling crew welfare and safety. In comparison to rival systems utilising terminal designs that, in many cases, are now significantly older, the FB500's class-leading capabilities and future-proofed technology give a significantly more cost-effective long-term investment. 
This product has been designed to fully match Intellian's extremely popular GXNX line of Ka-band antennas, resulting in the most cutting-edge FX product offering available today. This makes it the perfect option for newly constructed vessels, offering a flexible, cost-effective solution that is future-proof. Because of this, the FB500 is anticipated to be particularly appealing to shipyards and increase Intellian's already brisk sales in this industry. 
Eric Sung, CEO at Intellian, said: "We are thrilled that our FB500 terminal has been certified for use in Japan. As one of the major ship-owning nations in the world, Japan remains a crucial business pillar for Intellian, within which we have significant and long-standing collaborations. With global availability from all our Regional Logistic Centers we're confident that this certification will continue to position the FB500 as the industry lead in this field. This certification is a testament to our partnership with Inmarsat, as well as to the quality and reliability of our FleetBroadband terminals."
Ben Palmer, President, Inmarsat Maritime, said: "Intellian's FB500 is one of the best performing and technically advanced in the FleetBroadband range, and we're delighted that this has now been certified in such a business-critical region. This certification is another milestone in our great partnership with Intellian and the engineering excellence required. We're confident that this is only the next step in a long and fruitful collaboration."
About Intellian Technologies, Inc. 
Intellian is driven by a passion for innovation and an agile responsiveness to customer needs. As the crucial link between satellite networks and millions of people on Earth, Intellian's leading technology and antennas empower global connectivity across oceans and continents, organizations and communities. Strategic thinking, an obsession with quality and a proven ability to deliver enables Intellian to invent for the future, creating mutual success for partners and customers as the world's connectivity needs evolve. For more information, follow @intellian and visit intelliantech.com. Intellian Technologies Inc. is listed on the Korean Stock Exchange, KOSDAQ (189300:KS)
About Inmarsat 
Inmarsat delivers world leading, innovative, advanced and exceptionally reliable global, mobile communications across the world – in the air, at sea and on land - that are enabling a new generation of commercial, government and mission-critical services. Inmarsat is powering the digitalisation of the maritime industry, making operations more efficient and safer than ever before. It is driving a new era of inflight passenger services for aviation, while ensuring that aircraft can fly with maximum efficiency and safety. Furthermore, Inmarsat is enabling the rapid expansion of the Internet of Things (IoT) and enabling the next wave of world-changing technologies that will underpin the connected society and help build a sustainable future. And now Inmarsat is developing the first-of-its-kind, multi-dimensional communications network of the future, ORCHESTRA.
In November 2021, Inmarsat and Viasat announced the planned combination of the two companies, to create a new leader in global communications.