Intellian expand their Ku/Ka-band, multi-orbit XEO Series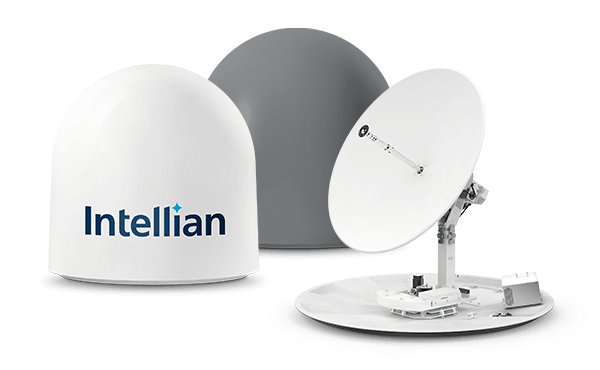 Seoul, 10 January 2023 – Intellian today announces the expansion of its XEO Series, a Ku/Ka electronically switching dual-band multi-orbit VSAT antennas, with the addition of the X100D and X150D. The XEO Series has seen great traction with the X130D and X130D PM across commercial and military markets since they were first unveiled in March 2022 at the Satellite Show, leading to Intellian's design of the X100D, available later this month, and the X150D, launching in early Q3 2023.
The XEO Series are the world's first commercially available Ka/Ku-band through a single feed, electronically switchable, multi-orbit antennas, making them ideal for customers requiring high-bandwidth, availability and maximum agility. Designed for government, cruise, expedition vessels, superyachts, energy and shipping, XEO antennas are based on Intellian's proven design with multi-orbit LEO, MEO, GEO and HEO tracking capabilities, including HTS Ka-band GEO. They can operate on any commercial Ku-band and Ka-band service, electronically switching through a single feed, and utilize Intellian's proprietary 2.5GHz wide Ka-band transceiver. These engineering innovations will enable access to the highest bandwidth packages worldwide and their interoperability, ensures access to the most comprehensive global networks.
"At Intellian, we're proud to be at the forefront of satellite communication technology and our XEO Series portfolio is a testament to that heritage. These solutions are built for seamless connectivity, delivering true broadband performance with global coverage that our maritime customers require. XEO Series is the pinnacle of innovation, enabling the much sought-after flexibility to switch with ease between different network bands and tap into new and existing constellations across LEO, MEO, GEO and HEO," said Eric Sung, CEO of Intellian. "As the first to bring a commercially available solution to the market, we've significantly transformed the way our customers access hybrid connectivity on board their vessels. The X100D, X130D, X130D PM and X150D all enable the agility required for customers to have highly responsive connectivity, as and when they need it."
Like all products in the ground breaking XEO Series, the X100D and X150D are dual-band VSAT antennas that offer seamless connectivity by eliminating the need for conversion kits or hardware modifications required by more conventional terminals. Intellian's mediator, the IM8, enables multi-antenna operation can be utilized with the XEO Series, enabling seamless management of systems on-board. It enables customers the highest performance, versatility, and high-bandwidth on demand access to a wide range of service options, electronically switching between Ku-band and Ka-band operations with a single command using an API. SES was the first to type-approve the XEO Series for use on their high-performance O3b mPOWER communications network.
The military grade terminal in the portfolio is the X130D PM. Designed exclusively to operate and survive in the harshest sea environments on board naval and government vessels, it complies with required specifications, including FCC, ETSI, MIL-STD-810H and MIL-STD-461G. Like all the XEO Series products, the dual-band capabilities ensure maximum redundancy and resiliency. The switching ability means fewer antennas are required, making good use of the available real estate on board a vessel.
About Intellian Technologies, Inc.
Intellian is driven by a passion for innovation and an agile responsiveness to customer needs. As the crucial link between satellite networks and millions of people on Earth, Intellian's leading technology and antennas empower global connectivity across oceans and continents, organizations and communities. Strategic thinking, an obsession with quality and a proven ability to deliver enables Intellian to invent for the future, creating mutual success for partners and customers as the world's connectivity needs evolve. For more information, follow @intellian and visit intelliantech.com. Intellian Technologies Inc. is listed on the Korean Stock Exchange, KOSDAQ (189300:KS).