Intellian demonstrates flat panel user terminal and confirm production for OneWeb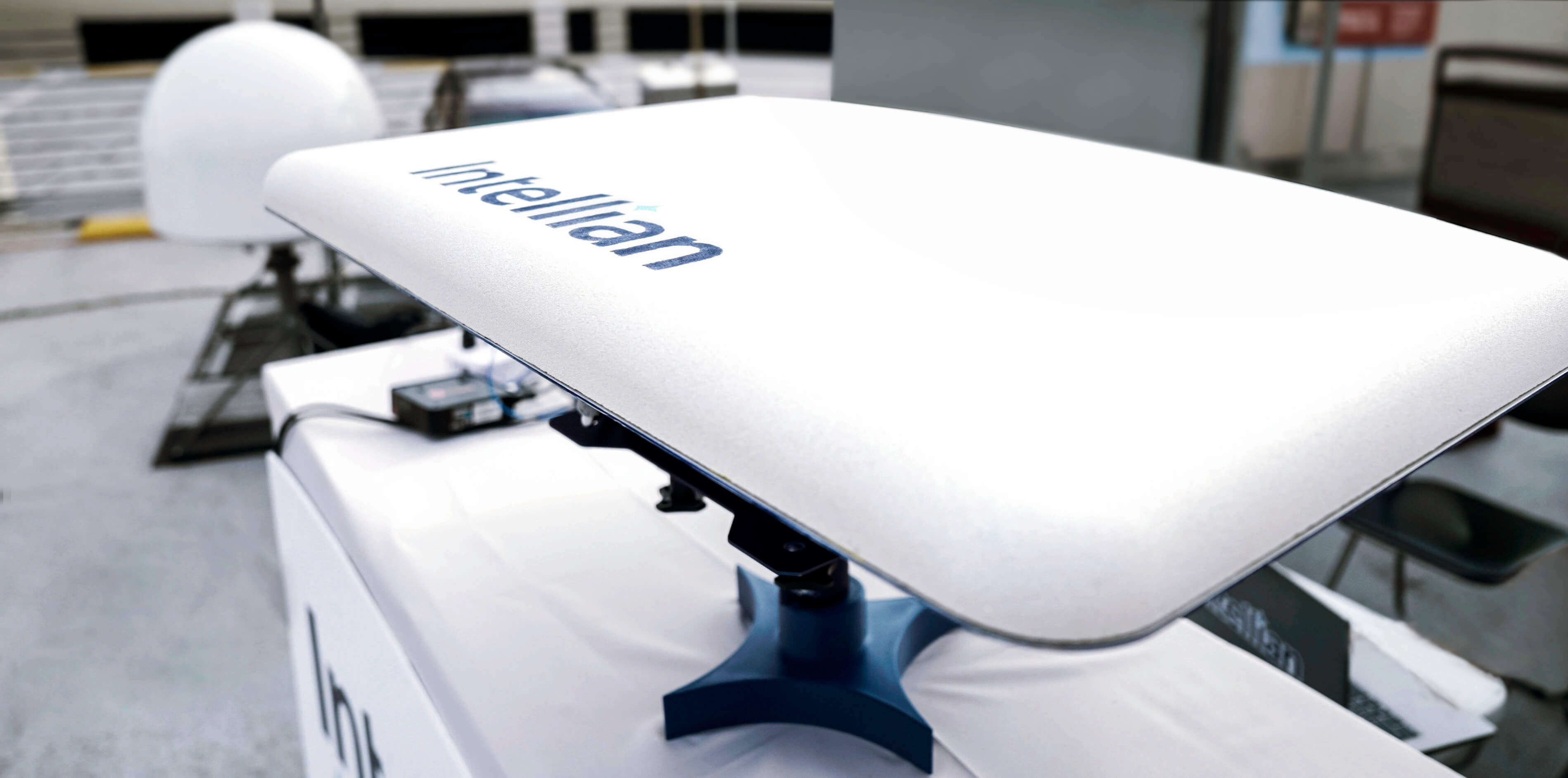 Maryland, USA –  12 January 2023 — Intellian, a leading global provider of multi-constellation, feature-rich, future-proof satellite user terminal and communications solutions, and OneWeb, the low Earth orbit (LEO) satellite communications company, today announced the success of their joint over-the-air demonstration using Intellian's flat panel technology.
At Intellian's Advanced Development Center (ADC) in Maryland, the demonstration showcased an integrated, small form-factor Electronically Scanned Array (ESA) user terminal, operating in a live commercial network environment facilitated by OneWeb. The Intellian ESA user terminal achieved the maximum download and upload speeds supported by the OneWeb system in full duplex mode operation, with seamless beam hand-overs and satellite hand-overs.
This milestone validates Intellian's innovative core technologies ahead of production in Q4 2023. Intellian's ESA user terminal production will take place at their state-of-the-art factory, providing a streamlined process with exceptional product value, quality, diversity, and scalability.  
The highly specialized and experienced team at Intellian helped to deliver and deploy the very first OneWeb commercial service user terminals at rapid speed. With a unique and innovative technology and strategy, Intellian brings to market a diverse portfolio of ESA user terminals designed to address user requirements across Enterprise, Land Mobility, Military, Government and Maritime at unparalleled speed.
Eric Sung, President and CEO Intellian Technologies Inc, said: "Our strategic partnership with OneWeb has been further strengthened as we once again achieve another fantastic milestone together. This over-the-air demonstration validates the strength of our ESA technology and brings us one step closer to launching truly integrated products that all of OneWeb's commercial customers can benefit from. With our new manufacturing campus also launched in Korea during 2022, we can deliver incredible scale and quality assurance to our partners."
Massi Ladovaz, Chief Technology Officer at OneWeb, added: "Our partnership and collaboration with Intellian continues to grow and we are excited about the future potential of today's demonstration. OneWeb's network is ideal for flat panel user terminals and this has the potential to provide customers with unique benefits that match their connectivity needs. The technology is well suited for residential, government and commercial markets, land-based industries, helping to achieve OneWeb's ambition to bring low latency, high speed connectivity to our customers globally."
About Intellian Technologies, Inc.
Intellian is driven by a passion for innovation and an agile responsiveness to customer needs. As the crucial link between satellite networks and millions of people on Earth, Intellian's leading technology and antennas empower global connectivity across oceans and continents, organizations and communities. Strategic thinking, an obsession with quality and a proven ability to deliver enables Intellian to invent for the future, creating mutual success for partners and customers as the world's connectivity needs evolve. For more information, follow @intellian and visit intelliantech.com. Intellian Technologies Inc. is listed on the Korean Stock Exchange, KOSDAQ (189300:KS).
About OneWeb
OneWeb is a global communications network powered from space, headquartered in London, enabling connectivity for governments, businesses, and communities. It is implementing a constellation of Low Earth Orbit satellites with a global network of gateway stations and a range of user terminals to provide an affordable, fast, high-bandwidth and low-latency communications service, connected to the IoT future and a pathway to 5G. Find out more at http://www.oneweb.world