Intellian and Inmarsat Embark on Ground Breaking Next-Generation FleetBroadband Development
New terminal to benefit services from both existing I-4 services and new I-6 constellation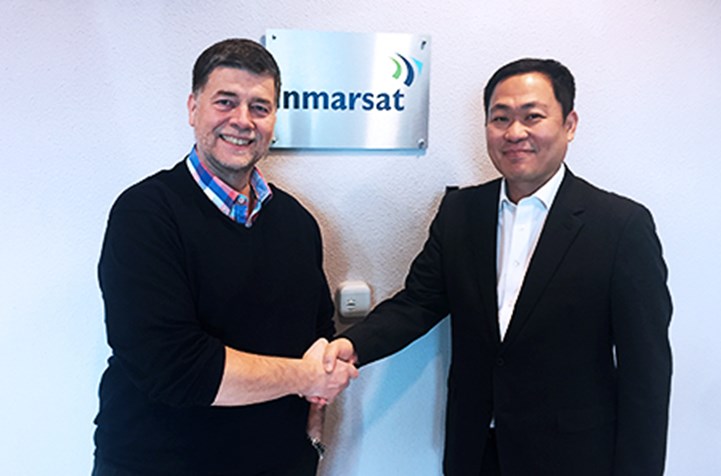 L-R: Ronald Spithout, President, Inmarsat Maritime and Eric Sung, President & CEO, Intellian.
14 February 2018 – Inmarsat and Intellian have today signed an outline agreement that will support major enhancements to Inmarsat's FleetBroadband service for the next decade and beyond.
The new agreement will see Intellian design and manufacture a new generation of FleetBroadband terminals that will support the existing I-4 network alongside the major advances coming with Inmarsat's sixth generation satellite constellation, the first of which is scheduled for launch in 2020. The next generation terminals will be significantly lower cost and feature a host of new capabilities, including much faster throughput speeds.
Ronald Spithout, President of Inmarsat Maritime, said: "Inmarsat has maintained its leadership position for many decades by understanding the maritime industry and focusing our resources on continual innovation. As we approach the next stage of FleetBroadband's evolution, we are excited to have partner such as Intellian with a justified reputation for flexible, high quality terminals that are manufactured in the most cost-efficient manner. We selected Intellian for this project because of their spirit of innovation and passion.
"It is also important to note that along with lower cost hardware and supercharged capabilities, the next generation of FleetBroadband, with the latest core module technology, will provide not just GMDSS but enhanced safety services; continuing to keep seafarers safe wherever they are in the world."
Eric Sung, CEO of Intellian, said: "FleetBroadband has been a market leader for over a decade. We are delighted to be working closely with Inmarsat on the ground-breaking enhancements that will be delivered through the Inmarsat-6 satellite constellation. Supported by a portfolio of the most advanced terminals in the world, the new capabilities of FleetBroadband further Inmarsat's leading position in L-band services."
Inmarsat's sixth generation (Inmarsat-6) satellite constellation will be the first [Inmarsat constellation] to feature dual-payload satellites, each supporting L-band and Ka-band services. The I-6 satellites will deliver a step change in the capacity of Inmarsat's L-band services, supporting a new generation of capabilities – from advanced global safety services and very low cost mobile services to Internet of Things (IoT) applications.
More information may be found at www.intelliantech.com
About Intellian Technologies
Intellian is a leading global technology and solutions provider for satellite communications, empowering connectivity for the maritime, government, military, energy, cruise and enterprise sectors. Founded in 2004, Intellian is renowned for its innovative design, future-proofed technologies and outstanding customer support, which combined with continued investment in its partners, logistics network, quality control and low environmental impact production facilities make it a trusted enabler within the satellite communications industry. Its bold, pioneering solutions include the award-winning v240MT – the world's first tri-band, multi-orbit antenna system – and the future-proof NX series antennas, optimized for high performance and low cost of ownership.
Intellian has a global presence with over 400 employees, 12 regional facilities and five logistics centers on three continents. The Intellian 24/7 global support desk provides dedicated assistance to 550 service provider partners and their customers in mission-critical environments. Intellian Technologies Inc. is listed on the Korean Stock Exchange, KOSDAQ (189300:KS).