Taking complexity out of VSAT installation and servicing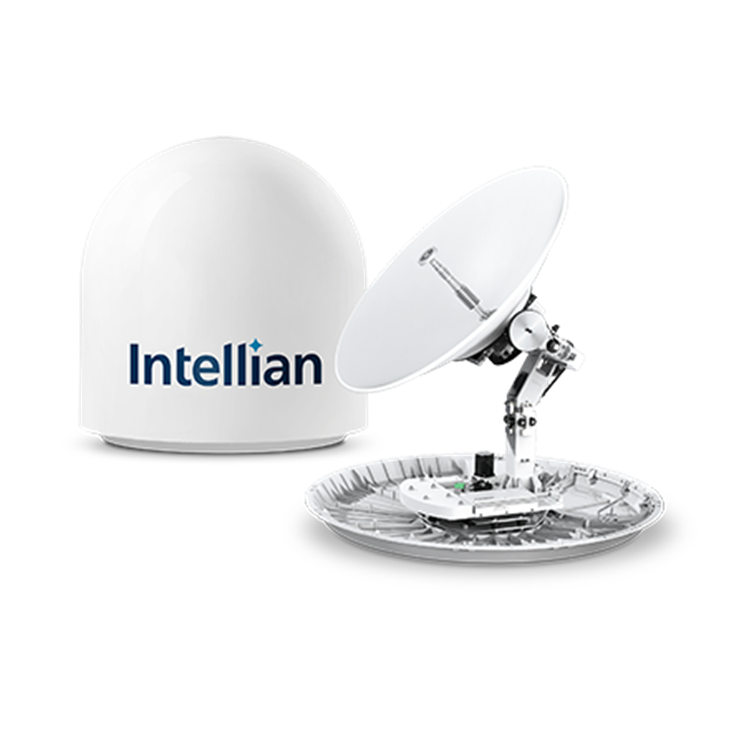 Intellian v100NX 1-m VSAT antenna is commissioned using AptusNX
How a holistic design approach can facilitate flexibility and simplify VSAT installations

Maritime VSAT technology should be reliable, simple to set up and straightforward to operate. Easily accessible, always-on communications have become part of everyday life at sea. However, the closer the onboard communications experience becomes to that found onshore, the less tolerant customers are of slow speeds and unreliable connections.
Therefore, easy installation, commissioning and servicing, plus the reassurance of an extensive, dependable support network are pivotal considerations.
Antenna system installation and support have traditionally been costly, complex and time-consuming. They required specialist knowledge which varied significantly from product to product, even between those from the same range and manufacturer.
To mitigate these issues, Intellian re-examined the entire antenna lifecycle from start to finish for its NX range of VSAT antennas. This began with shipping the antennas and ended with straightforward upgrades, health checks and parts replacement.
Intellian NX product specialist Mike Wilson explains "One of the key aspects of the NX Series is its ability to convert quickly and easily between Ku and Ka bands, and to track satellites across different orbits."
This includes satellites in geostationary (GEO), medium Earth (MEO) and low Earth (LEO) orbits. "This allows a customer to change their service provision easily without having to carry out major hardware changes, and proofs their NX antenna against foreseeable infrastructure upgrades," says Mr Wilson. This extends the life of this critical onboard hardware.
This configurability, whether installing or upgrading, is underpinned by Intellian's AptusNX interface. This browser-based utility can be accessed locally via a local area network or wifi, and remotely using either the antenna itself or an alternative onboard web connection. "AptusNX is used from the early stages of commissioning, where a step-by-step installation wizard guides the engineer through the setup process," says Mr Wilson.
This ensures the antenna is set up according to Intellian's recommendations and that no tasks are left undone.
"AptusNX users can be granted varying access rights, and each user's dashboard can be customised to ensure their essential tools are easily to hand," Mr Wilson continues. "A troubleshooting page allows tests to be carried out on individual antenna components, isolating faults and facilitating swift repairs.
"On commissioning, a full health check is automatically carried out, ensuring service engineers have a clear datum from which to assess current performance," he explains.
Intellian also considered the speed and complexity of hardware installation. All NX antennas arrive pre-slung, with lifting harnesses already in place within the crate.
On arrival, the antenna can be lifted straight into position. There are no shipping brackets thanks to a dynamic braking system on the antenna motors, which will dampen any sudden movements during transit.
"There is no need to remove the dome at all," says Mr Wilson. "The cable connection has been brought outside the antenna. This removes potential waterproofing failures from cable glands and incorrect refitting of the dome, as well as dramatically reducing the time taken to connect the unit."
There is a single coaxial cable carrying power, transmit and receive signals, as opposed to the three individual cables used in the past. "This simplifies installation, especially over long cable runs," says Mr Wilson.
Below decks, the antenna control unit (ACU) has AptusNX tools built in and an embedded mediator, allowing it to be linked directly to another NX ACU to enable a dual antenna configuration with a single modem.
Intellian streamlined parts supply through two strategies: increased parts sharing and improved local stock. "NX antennas share as many parts, such as motors, as possible," says Mr Wilson. "The net result is a 40% parts reduction, making it much easier for warehouses to store a full set of parts and for service engineers to carry a comprehensive spares kit."
This holistic, plug-and-play approach to antennas opens the antenna market to a wider range of users and drives both service and hardware prices down. Intellian is repositioning itself from being an antenna manufacturer to a connectivity solutions provider, and the integrated concept of NX is a first, positive step.
Read the original article here
About Intellian Technologies
Intellian is a leading global technology and solutions provider for satellite communications, empowering connectivity for the maritime, government, military, energy, cruise and enterprise sectors. Founded in 2004, Intellian is renowned for its innovative design, future-proofed technologies and outstanding customer support, which combined with continued investment in its partners, logistics network, quality control and low environmental impact production facilities make it a trusted enabler within the satellite communications industry. Its bold, pioneering solutions include the award-winning v240MT – the world's first tri-band, multi-orbit antenna system – and the future-proof NX series antennas, optimized for high performance and low cost of ownership.
Intellian has a global presence with over 400 employees, 12 regional facilities and five logistics centers on three continents. The Intellian 24/7 global support desk provides dedicated assistance to 550 service provider partners and their customers in mission-critical environments. Intellian Technologies Inc. is listed on the Korean Stock Exchange, KOSDAQ (189300:KS).
More information may be found at www.intelliantech.com