SM Line selects Intellian v100 as a standard VSAT antennas for its fleet
SM Line confirms it will use Intellian antennas as standard across its fleet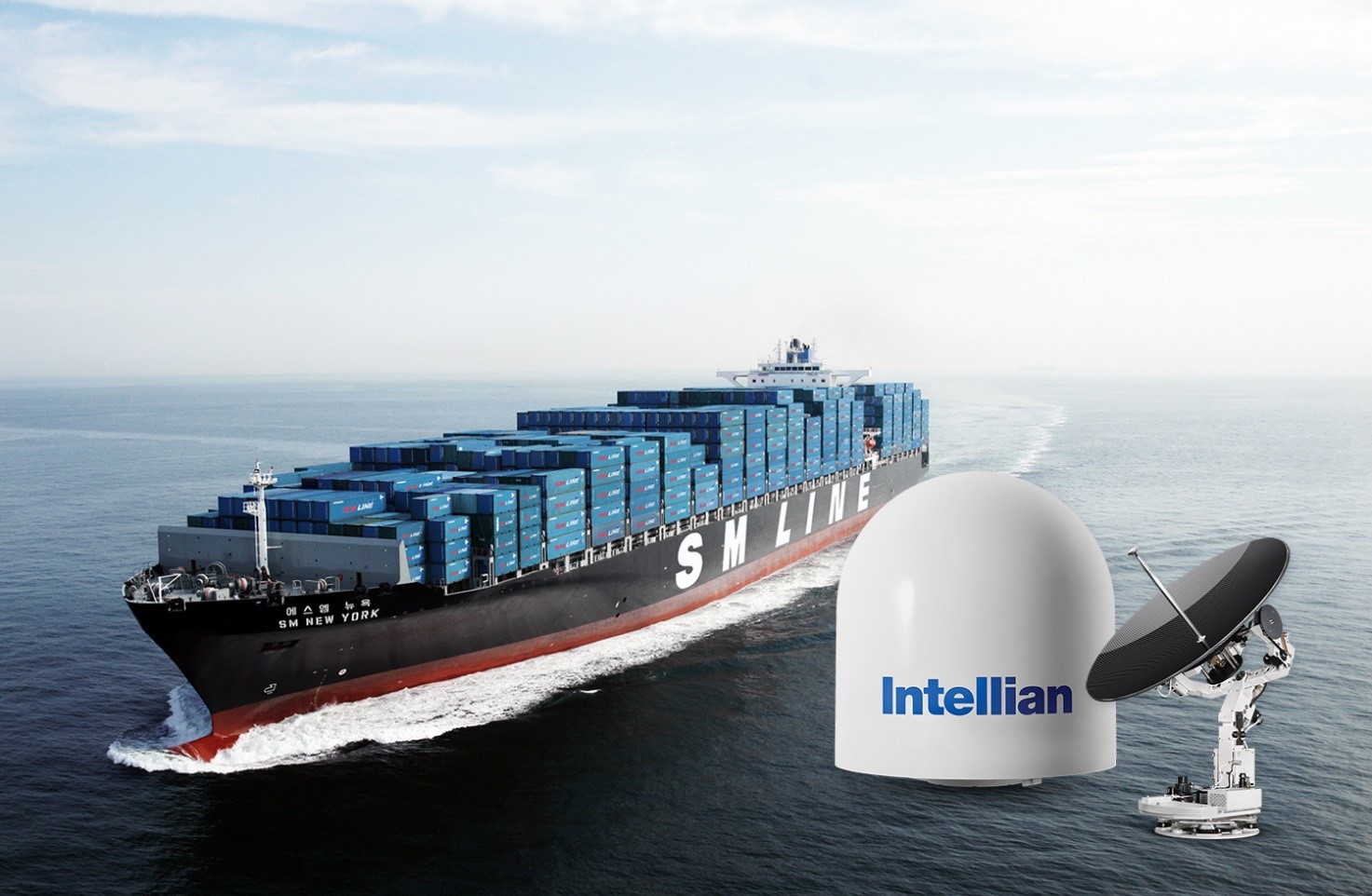 Intellian, the world's leading provider of maritime satellite antenna systems, today announced that its v100 maritime VSAT antenna has been chosen by SM Lines to power its ships' data and communications, and enable its IoT (Internet of Things) freight monitoring system.
Internet-enabled physical objects that can process, receive or store information are enabling providers who can illuminate the supply chain's blind spots to improve productivity, make existing processes more efficient, and deliver new services that improve upon traditional business models.
SM Line is implementing the freight monitoring technology to improve service quality along its key Asia-U.S. shipping route, and in doing so, it has become the first Korean container shipping company with the ability to monitor and track the condition of items in a container in real time. For its reefer users, this will mean that its customers are able to collect the temperature and humidity of the container and track it on shore in real time.
A representative from SM Line commented, "Through our partnership with Intellian, we've gained a comprehensive and connected smart solution that's tailored to our needs, and is already delivering visible benefits throughout our supply chain. As a reliable, proven system with full certification in many of SM Line's biggest markets, we knew that we could count on Intellian's v100 to facilitate access to the data we need to deliver an exceptional service based upon detailed and comprehensive intelligence."
Designed and engineered to operate on Ku and Ka-bands while maximizing the RF performance on both bands, Intellian's v100 is the industry`s de facto standard in shipping with more than 5,000 units in the market.
Eric Sung, CEO, Intellian commented, "Extending across the entire logistics value chain, the IoT is bringing enormous benefits to logistics operators and their end users. By proactively working with Intellian to build smart system platforms that can host digital ecosystems, SM Line is taking insight and turning it into actionable intelligence for the owners of their ships' cargoes."
More information may be found at www.intelliantech.com
About Intellian Technologies
Intellian is a leading global technology and solutions provider for satellite communications, empowering connectivity for the maritime, government, military, energy, cruise and enterprise sectors. Founded in 2004, Intellian is renowned for its innovative design, future-proofed technologies and outstanding customer support, which combined with continued investment in its partners, logistics network, quality control and low environmental impact production facilities make it a trusted enabler within the satellite communications industry. Its bold, pioneering solutions include the award-winning v240MT – the world's first tri-band, multi-orbit antenna system – and the future-proof NX series antennas, optimized for high performance and low cost of ownership.
Intellian has a global presence with over 400 employees, 12 regional facilities and five logistics centers on three continents. The Intellian 24/7 global support desk provides dedicated assistance to 550 service provider partners and their customers in mission-critical environments. Intellian Technologies Inc. is listed on the Korean Stock Exchange, KOSDAQ (189300:KS).