Satcom Global completes rapid rollout of Aura VSAT across Parakou Fleet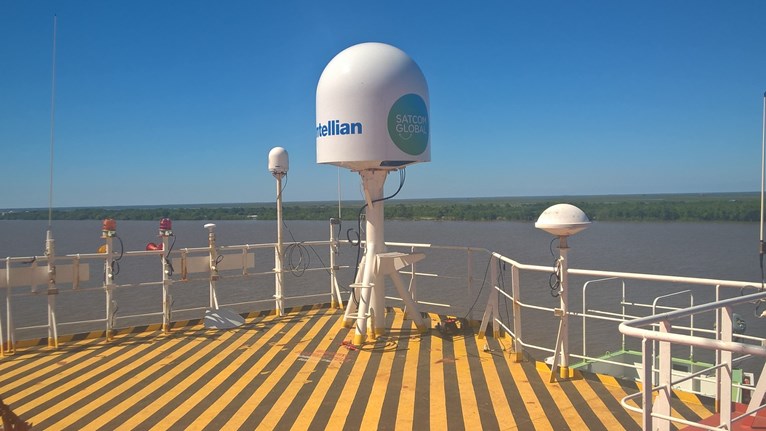 Leading Singapore based ship management company, Parakou, has selected Satcom Global Aura VSAT for installation across its fleet of tankers. The global Ku-band VSAT service is now live on eight vessels, following an eight week rapid installation programme in Asia and the USA, delivering high bandwidth quality communications for business and crew use.
Operating in a time sensitive market, with vessels trading globally and at short notice, Parakou required a reliable communications solution offering full ocean coverage and guaranteed bandwidth. Satcom Global is meeting Parakou's need head on with Aura; a global unlimited data service supported by CIR (Committed Information Rate), ensuring dedicated bandwidth at all times, benefiting both vessel operations and crew communications.
The enhanced bandwidth provides Parakou vessels with the dependable connectivity they require for a wide range of business applications, as well as supporting the welfare of their crew, by keeping them in touch with life onshore. An ideal crew communications solution; Aura allows the crew to connect to the web and email via their own smart devices, enabled by the IPSignature 4 smartbox included in the Aura below deck rack.
Mr Moh Chong Boon, Fleet Director at Parakou, said: "Having worked with Satcom Global for many years, we knew they had the right experience to support us in our move to VSAT technology. An important driver in our adoption of VSAT was to be able to provide our crew with reliable and consistent connectivity. Aura's guaranteed CIR gave us confidence that the crew will have an improved experience whilst sailing for extended periods of time. Aura is already making a huge difference to vessel connectivity, so we look forward to completing the rollout across the rest of the fleet."
Ben Swallow, General Manager, VSAT at Satcom Global said: "Parakou holds very high standards for both operational efficiency and in how they support their crew, so we are delighted that we have been able to fulfill their requirements for an enhanced communications solution. Aura's Global coverage, guaranteed data speeds (CIR), industry leading SLA and 24/7 support ensures Parakou has a solution they can truly rely on."
Understanding that agility is a key requirement of the maritime industry, Satcom Global was able to quickly deploy hardware and engineers to complete installations in both Singapore and Houston. In stark contrast to the industry standard, Satcom Global was able to go from receipt of order, to installation of Aura on the first vessel in just 5 days.
Talking about the installation experience, Mr Moh Chong Boon, added: "Usually migrating a fleets communications system is a complicated and lengthy process, but the flexibility Satcom Global has shown in completing the installations of Aura VSAT in such quick succession is impressive."
Ben Swallow continued: "We have a dedicated team project managing all aspects of the Aura VSAT implementation and logistics. With our streamlined processes we were able to capture the unique vessel requirements, ship equipment and attend vessels for commissioning within the week."
Satcom Global's installation process combines the expert knowledge of their in-house team of engineers, along with a strategic partnership with Intellian, ensuring that Satcom Global has dedicated access to Ku-band hardware at all times; including Intellian v100 antennas and the Aura rack which is also manufactured at Intellian's Global facilities. This arrangement enables a fast and seamless global distribution service to meet tight customer deadlines and installation requirements.
"Our strategic partnership with Satcom Global is the perfect example of the new, more efficient business model we're encouraging the market to adopt," says Jon Harrison, VP of Global Satcom Sales at Intellian. "Our respective technical teams have collaborated to define a standardised system, including Intellian's 1m VSAT system and fully pre-integrated rack system, comprised of our below deck equipment as well as Satcom Global's IPSignature 4 smartbox and all other required devices to swiftly enable the Aura service. By keeping stock of these pre-integrated, pre-tested systems in our three global logistics centers – and backed by a network of more than 450 vendors worldwide – we enable our partners to rapidly fulfill orders and connect global fleets, like Parakou's MR tankers, in the shortest possible time, leading to a smoother transition to VSAT and accelerated ROI."
Aura offers leading Ku-band coverage via an HTS ready and organically growing satellite network. Available in a range of competitively priced packages, with reliable L-Band back-up options, Aura users benefit from dedicated bandwidth, an unmatched Fair Use Policy and a leading SLA of 99.5%. Aura is fast becoming the VSAT solution of choice for the commercial, leisure and fishing markets around the world.
Satcom Global has enjoyed a longstanding relationship with Parakou, providing vessel communications and meeting their need for efficient and proactive customer support for a number of years.
More information may be found at www.intelliantech.com
About Intellian Technologies
Intellian is a leading global technology and solutions provider for satellite communications, empowering connectivity for the maritime, government, military, energy, cruise and enterprise sectors. Founded in 2004, Intellian is renowned for its innovative design, future-proofed technologies and outstanding customer support, which combined with continued investment in its partners, logistics network, quality control and low environmental impact production facilities make it a trusted enabler within the satellite communications industry. Its bold, pioneering solutions include the award-winning v240MT – the world's first tri-band, multi-orbit antenna system – and the future-proof NX series antennas, optimized for high performance and low cost of ownership.
Intellian has a global presence with over 400 employees, 12 regional facilities and five logistics centers on three continents. The Intellian 24/7 global support desk provides dedicated assistance to 550 service provider partners and their customers in mission-critical environments. Intellian Technologies Inc. is listed on the Korean Stock Exchange, KOSDAQ (189300:KS).