OneWeb and Intellian Announce User Terminal Partnership to Enable Remote Enterprise and Cellular Backhaul Connectivity Expansion
This exciting partnership is the next significant milestone in the development of OneWeb's system by enabling the first of the customer facing "user terminals" which will be used across use varying customer markets.
This high-performance, enterprise-grade user terminal for OneWeb's network will deliver low-latency, fixed services, and is specifically designed to have high efficiency for data intensive use cases.
This premier user terminal will provide for the expansion and upgrade of backhaul infrastructure and enable remote connectivity to help OneWeb advance its mission of bringing internet access everywhere for everyone.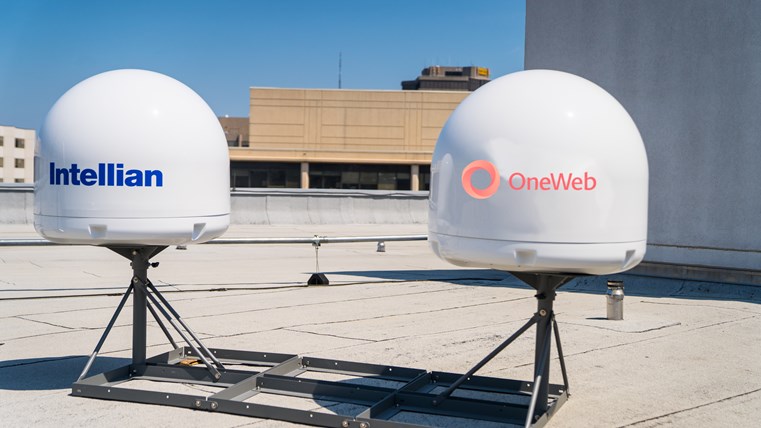 OneWeb, a global communications company with a vision to enable internet access everywhere for everyone, has announced a partnership with Intellian, to build user terminals designed specifically for remote enterprise networks, cellular backhaul expansion and remote connectivity needs. The user terminals will be the units provided to customers to enable the high-speed, low latency service that our global satellite constellation will deliver.
These user terminals will be perfect for a range of use cases including connecting businesses in rural areas, schools, hospitals, farms and community centers.
This partnership represents a significant step-forward in the development of OneWeb's system following the launch of its first satellites and its first customer announcements in February 2019. With six satellites now in orbit and a range of antennas now in place, OneWeb is ready to advance the development of its portfolio of user terminals, ranging from compact flat panels to highly-efficient dual parabolics. All our user terminals will be designed to serve a range of customer needs, market verticals and use cases.
With many remote and unconnected areas around the world still lacking access to broadband, these user terminals will help to close to gaps and connect remote enterprises, as well as, expand cellular backhaul capacity which is essential for extending connectivity. The terminals will utilize dual-parabolic antennas to deliver cost-effective and efficient throughput making high-speed and low-latency services available in hard-to-reach areas and helping bridge the digital divide.
"This is an exciting moment for OneWeb as we expand and develop our user terminals with an extremely important partner", said Adrian Steckel, CEO of OneWeb. "Our user terminals will always be designed with customer needs in-mind, ensuring we deliver a service they can trust. We're delighted to be partnering with Intellian and this agreement marks a major step forward in our efforts to bridge the global digital divide."
"Intellian is excited to be chosen by OneWeb with its fascinating vision and innovative LEO constellation", said Eric Sung, CEO of Intellian. "We're thrilled our design and manufacturing capabilities will help connect people in remote locations to this new Satellite ecosystem."
OneWeb expects these terminals to be available for Commercial use in 2020.
View images of the user terminals here compared to industry standard and scaled on a high-rise building
More information may be found at www.intelliantech.com
About Intellian Technologies
Intellian is a leading global technology and solutions provider for satellite communications, empowering connectivity for the maritime, government, military, energy, cruise and enterprise sectors. Founded in 2004, Intellian is renowned for its innovative design, future-proofed technologies and outstanding customer support, which combined with continued investment in its partners, logistics network, quality control and low environmental impact production facilities make it a trusted enabler within the satellite communications industry. Its bold, pioneering solutions include the award-winning v240MT – the world's first tri-band, multi-orbit antenna system – and the future-proof NX series antennas, optimized for high performance and low cost of ownership.
Intellian has a global presence with over 400 employees, 12 regional facilities and five logistics centers on three continents. The Intellian 24/7 global support desk provides dedicated assistance to 550 service provider partners and their customers in mission-critical environments. Intellian Technologies Inc. is listed on the Korean Stock Exchange, KOSDAQ (189300:KS).