NX in focus at Nor-Shipping 2019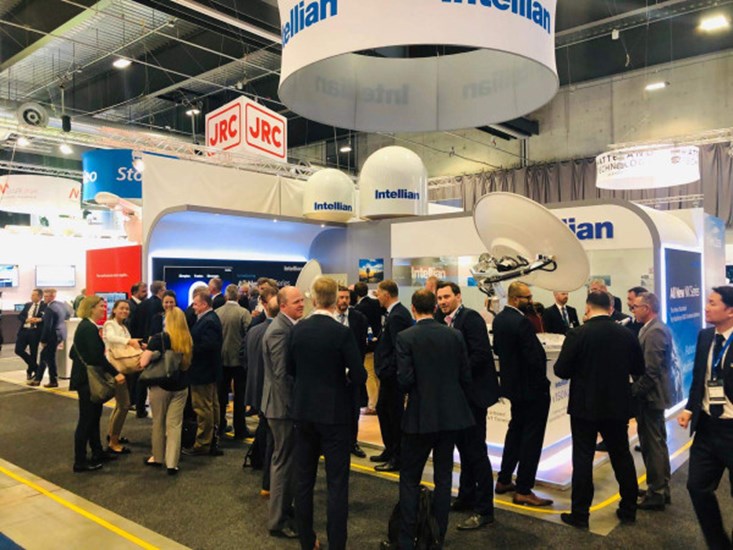 While we were expecting a lot of interest at this year's Nor-Shipping exhibition in Norway we couldn't have predicted how busy the Intellian stand actually was! Staff were kept occupied all day every day, with customers and industry professionals very eager to find out the latest developments we have introduced.
This was reflected by fantastic attendance to our lunchtime product seminar, where customers were able to get a deeper insight on the NX platform and antennas. Our happy hour took place in a slightly less formal setting, with people joining us on our stand from all over the world. It was fantastic to meet with old and new friends and customers, in a networking event the really reflected the spirit of Nor-Shipping.
Technology-wise, the spotlight was firmly on our state-of-the-art, future-proofed NX technology platform and how the integration of new hardware, software and logistics solutions simplifies and streamlines VSAT, from procurement and installation through to high performance and reliable operation.
Of course, with a diverse portfolio of maritime antenna systems covering all frequencies, global and regional services, and vessel types, we were keen to showcase our new multi-band and multi-orbit technology, with the launch of the brand new v100NX. We also had a v150NX antenna on our stand which certainly drew the crowds, and the GX100NX for Inmarsat Fleet Xpress next to it proved a popular attraction too.
The show organizers have revealed that Nor-Shipping 2019 was the most successful ever, with a record number of delegates making the trip to the Lillestrøm-based exhibition halls and associated activities in Oslo. In all, almost 50,000 people participated in Nor-Shipping 2019 official events between 3 and 7 June – a 34% increase over 2017 figures.
All in all our week in Norway was incredibly positive, and we'd like to thank everyone who came to visit us, and of course the Intellian staff that made our stand such a success in front of the world's maritime industry!
More information may be found at www.intelliantech.com
About Intellian Technologies
Intellian is a leading global technology and solutions provider for satellite communications, empowering connectivity for the maritime, government, military, energy, cruise and enterprise sectors. Founded in 2004, Intellian is renowned for its innovative design, future-proofed technologies and outstanding customer support, which combined with continued investment in its partners, logistics network, quality control and low environmental impact production facilities make it a trusted enabler within the satellite communications industry. Its bold, pioneering solutions include the award-winning v240MT – the world's first tri-band, multi-orbit antenna system – and the future-proof NX series antennas, optimized for high performance and low cost of ownership.
Intellian has a global presence with over 400 employees, 12 regional facilities and five logistics centers on three continents. The Intellian 24/7 global support desk provides dedicated assistance to 550 service provider partners and their customers in mission-critical environments. Intellian Technologies Inc. is listed on the Korean Stock Exchange, KOSDAQ (189300:KS).