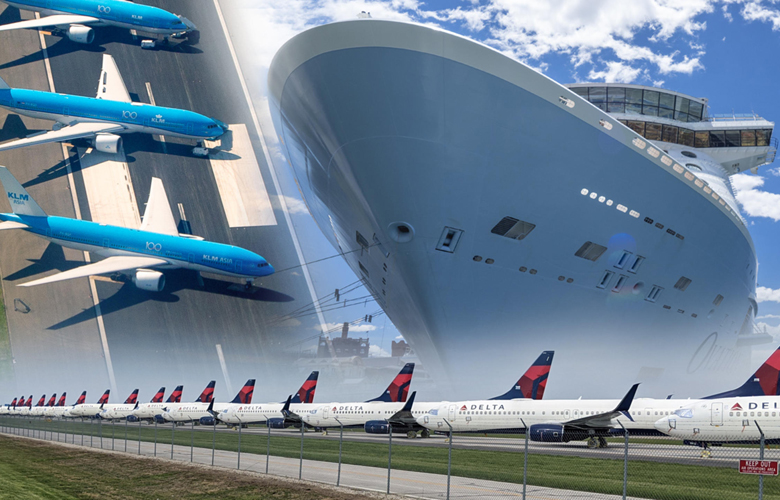 While cruises are stuck in port for the next few months, the overall maritime mobility satellite market remains resilient, and increased bandwidth demand from shipping vessels offers a need that antenna companies can meet.
Cruises seemed to be a key part of the pandemic's spread around the world. A review by The Washington Post of cruise line statements, government announcements and media reports found that the coronavirus infected passengers and crew on at least 55 ships, about a fifth of the total global fleet. The Centers for Disease Control in the United States has issued a No Sail Order, which at this point is in effect until July 24, 2020. Yet there are already signs of cruises moving back into operation, as Carnival Cruise Lines has recently announced plans to bring a few cruises back in August.
NSR analyst Grady said that as cruise ships were sailing during the pandemic, they opened up Wi-Fi networks and removed pay barriers, and this factors into increased bandwidth requirements moving forward. NSR's "Maritime SATCOM Markets, 8th Edition" report predicts that this year will see a 7% increase in bandwidth demand over 2019 figures, even while in-service units and retail revenues decrease. Many shipping vessels are increasing connectivity for crew welfare programs and as cruises return, Grady says, the demand for connectivity will be increased moving forward.
Intellian executives validate that experience, and say the pandemic has cued a "significant" spike in bandwidth demand from the commercial shipping market, particularly for high-quality video streaming, as shipboard operations and crew welfare have increased their around-the-clock data demands. Harrison says access to a secure and dependable communications link is making a real difference keeping ships crew's minds healthy during extended periods of downtime.
Intellian CEO Eric Sung says the short-term is difficult, but in the long-term, the need for high-throughput data service for passenger ships will continue to increase, as Netflix and YouTube are becoming part of the de-facto service offering rather than traditional TV broadcasting in guest rooms.
"Customers may not choose a cruise or ferry that doesn't have a home-grade connection. From the passenger ship business perspective, after lockdown, if they want to get customers back to cruise again, an attractive environment should be prepared to attract customers. Having high throughput connectivity onboard will be a great marketing tool as well as essential part of service," Sung says.
In addition, Intellian's Harrison says that the remote operations situation caused by the pandemic has emphasized the operational and environmental benefits of smart shipping concepts. For shipping and oil and gas industries, satellite services have been key to monitoring, and engineering and predictive maintenance of offshore assets has been ramped up.
NSR's report says vessels are adopting Very Small Aperture Terminal (VSAT) connectivity and higher bandwidth provisioning rates. Retail revenues yield a cumulative $34.5 billion with broadband connectivity accounting for over 80%, capacity demand grows 24%, and the addressable market will expand to over 500,000 vessels by 2029.
However, one challenge the maritime market will face this year is social distancing restrictions to onboard anything like satellite hardware on new vessels, Grady says. Shipping vessels, for example, may be restricted in terms of coming into port, or who can board.
Read the original article here
About Intellian Technologies
Intellian is a leading global technology and solutions provider for satellite communications, empowering connectivity for the maritime, government, military, energy, cruise and enterprise sectors. Founded in 2004, Intellian is renowned for its innovative design, future-proofed technologies and outstanding customer support, which combined with continued investment in its partners, logistics network, quality control and low environmental impact production facilities make it a trusted enabler within the satellite communications industry. Its bold, pioneering solutions include the award-winning v240MT – the world's first tri-band, multi-orbit antenna system – and the future-proof NX series antennas, optimized for high performance and low cost of ownership.
Intellian has a global presence with over 400 employees, 12 regional facilities and five logistics centers on three continents. The Intellian 24/7 global support desk provides dedicated assistance to 550 service provider partners and their customers in mission-critical environments. Intellian Technologies Inc. is listed on the Korean Stock Exchange, KOSDAQ (189300:KS).
More information may be found at www.intelliantech.com