Intellian makes a big impression at CMMA 2019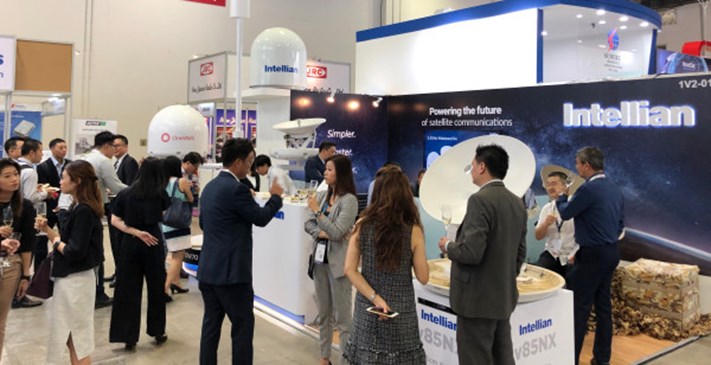 Intellian's forward-thinking, industry-leading antenna systems made a strong and successful showing at CommunicAsia 2019, Asia's key international Information and Communication Technology (ICT) trade event.
The exhibition, which was held at Marine Bay Sands, Singapore in June, provided the ideal stage for Intellian to demonstrate pioneering products including the future-proofed v85NX, the world's first 85cm Ku-Ka convertible VSAT antenna. The best-performing antenna in the 80cm class, the v85NX offers controlled costs with its enhanced reliability, modularised components and ease of maintenance, and is NGSO-and 2.5GHz-ready.
Also showcased by Intellian at CMMA 2019 were the Flyaway land-based, man-portable LP100 antenna system, designed for rapid and easy deployment, and the OW70 customer-facing user terminal, reflecting Intellian's new and fruitful partnership with global communications company OneWeb.
Intellian's antennas were also displayed in the booths of its valued partners. The new GX100NX Fleet Xpress terminal was proudly exhibited on the Inmarsat stand, while the v65 antenna – the world's first and only 60cm-class antenna providing top RF performance in both Ku- and Ka-band – was a significant presence on the kt sat stand.
Meanwhile, the 'happy hour' event at CMMA 2019 gave Intellian's many partners and customers a valuable opportunity to visit the company's booth, where an informative and productive time was spent networking and learning about the product range.
More information may be found at www.intelliantech.com
About Intellian Technologies
Intellian is a leading global technology and solutions provider for satellite communications, empowering connectivity for the maritime, government, military, energy, cruise and enterprise sectors. Founded in 2004, Intellian is renowned for its innovative design, future-proofed technologies and outstanding customer support, which combined with continued investment in its partners, logistics network, quality control and low environmental impact production facilities make it a trusted enabler within the satellite communications industry. Its bold, pioneering solutions include the award-winning v240MT – the world's first tri-band, multi-orbit antenna system – and the future-proof NX series antennas, optimized for high performance and low cost of ownership.
Intellian has a global presence with over 400 employees, 12 regional facilities and five logistics centers on three continents. The Intellian 24/7 global support desk provides dedicated assistance to 550 service provider partners and their customers in mission-critical environments. Intellian Technologies Inc. is listed on the Korean Stock Exchange, KOSDAQ (189300:KS).