Intellian and SES to develop and deploy two new SES O3b mPOWER customers terminals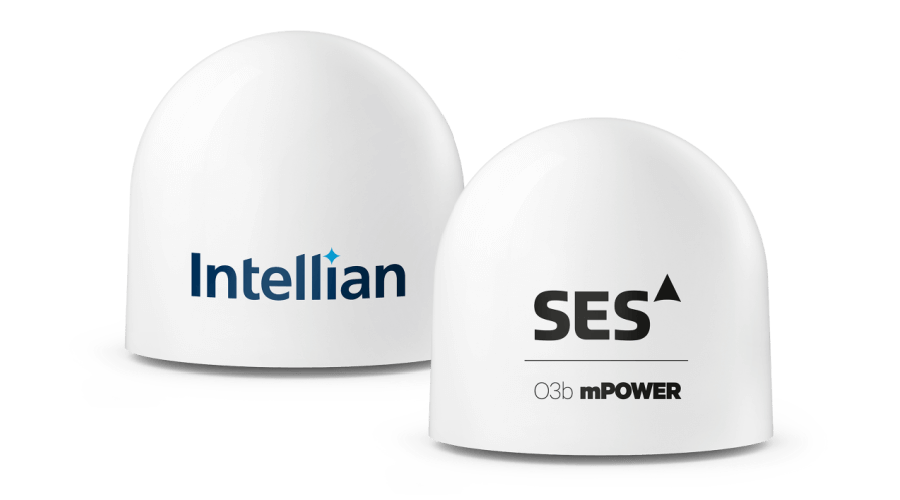 Pyeongtaek, South Korea – March 14, 2023 – Intellian Technologies, Inc. and SES, the leader in global content connectivity solutions, have announced two new customer user terminals designed exclusively for SES's O3b mPOWER communication system. The new mP85 and mP240 are designed for SES's telecommunications, enterprise and cloud customers, with an expected delivery later this year.
O3b mPOWER is SES's second-generation medium earth orbit satellite system that started launching late last year. With O3b mPOWER's high throughput, predictable, low latency and high availability services, SES customers will be able to enjoy unrivalled network performance network, support their most critical operations and grow their revenue streams.
The mP85 is an 85cm, single fast retrace parabolic user terminal. It will enable satellite handovers without the need for a secondary antenna, resulting in reduced footprint and power requirement for SES's customers.  
The larger mP240 is a 2.4m antenna designed to bring high-speed, up to multi-Gbps connectivity to a large volume of simultaneous users such as remote communities where they require enhanced bandwidth performance, or a better quality of service replacing poor or non-existent terrestrial communication methods. The mP240 could also be utilised within government and military operations as well, guaranteeing reliable connectivity for civil service, foreign affairs and NGOs.
This augments the multi-year agreement signed by Intellian and SES in October 2021 which has led to the delivery of mP130, X130D and mP240MT terminals for SES in 2022.
Ben Swallow, VP of Global Partnership & Strategy at Intellian, said: "Following on from the hugely successful mP130, the close collaboration and extensive testing between Intellian and SES has allowed us to expand on our partnership with the announcement of the mP85 and mP240. Our long-standing partnership with SES is one we're extremely proud of, and it allows us to provide significant value and innovation to our combined customer bases.
"This collaboration has allowed us to continue to build upon our intimate knowledge of O3b mPOWER, ensuring that all our products are best-in-class and fully fit for purpose on this network. Expanding the portfolio allows us to address multiple new market requirements, and we're proud to be doing this alongside SES."
Saba Wehbe, Vice President of Service Engineering and Delivery at SES, said: "O3b mPOWER is a gamechanger in our industry. With its ultimate flexibility to land beams anywhere, high throughput and low latency capabilities, we are leveraging these new terminals that are efficient, of low maintenance, and easy to ship and install to ensure timely provision to even our most remote customers. The past few years have been a testament to the close collaboration between SES and Intellian where we have seen them roll out multiple solutions  to our customers. At the onset of the O3b mPOWER program we stated the need to develop and rely on strong partner relationships – Intellian is one such key partner for O3b mPOWER.  We believe the two new terminals will allow us to expand our joint offerings and enable us to meet our customers' diverse connectivity needs."
About Intellian Technologies, Inc.
Intellian is driven by a passion for innovation and an agile responsiveness to customer needs. As the crucial link between satellite networks and millions of people on Earth, Intellian's leading technology and antennas empower global connectivity across oceans and continents, organizations and communities. Strategic thinking, an obsession with quality and a proven ability to deliver enables Intellian to invent for the future, creating mutual success for partners and customers as the world's connectivity needs evolve. For more information, follow @intellian and visit intelliantech.com. Intellian Technologies Inc. is listed on the Korean Stock Exchange, KOSDAQ (189300:KS)
About SES
SES has a bold vision to deliver amazing experiences everywhere on earth by distributing the highest quality video content and providing seamless connectivity around the world. As the leader in global content connectivity solutions, SES operates the world's only multi-orbit constellation of satellites with the unique combination of global coverage and high performance, including the commercially proven, low-latency Medium Earth Orbit O3b system. By leveraging a vast and intelligent, cloud-enabled network, SES is able to deliver high-quality connectivity solutions anywhere on land, at sea or in the air, and is a trusted partner to the world's leading telecommunications companies, mobile network operators, governments, connectivity and cloud service providers, broadcasters, video platform operators and content owners. SES's video network carries over 8,000 channels and has an unparalleled reach of 369 million households, delivering managed media services for both linear and non-linear content. The company is listed on Paris and Luxembourg stock exchanges (Ticker: SESG). Further information is available at: https://www.ses.com.