Big data for little boats
Intellian leverages high-throughput for boats under 80 feet
This spring Intellian rolled out the new v45C, a compact VSAT antenna that provides high-speed connectivity for commercial fishing vessels under 80 feet. The antenna's dish has a diameter of 45 centimeters, making it Intellian's smallest unit yet.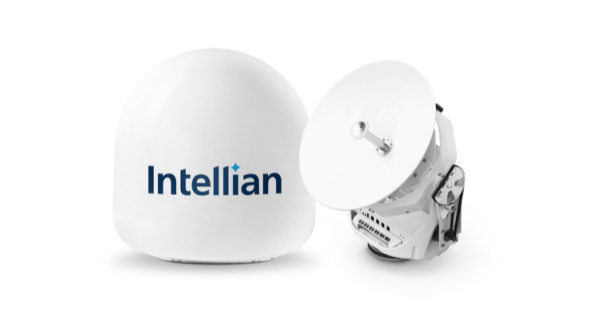 Viable in tight spaces on seiners, gillnetters, and trollers, the v45C provides small vessels with powerful connectivity once reserved for the big guys.
Paul Comyns, Intellian's vice president of global sales, said these little, powerful antennas are made possible by sweeping technological advances. "It's an interesting time because the technology is advancing for both the satellites and the antennas. That means we're able to create a smaller antenna that has the ability to create high-speed, broadband connectivity," Comyns said.
The speed is facilitated by high-throughput satellite technology, which leverages multiple network operators to provide a focused spot beam for high power in a small area. The antenna works where there is satellite coverage, which Comyns said covers most fishing grounds and coastal areas.
"It opens up a huge market potential with smaller fishing vessels. Before, they might have had internet onboard, but it was slow, pay-per-megabyte, expensive," Comyns said.
Comyns added that one advantage of the Intellian system is that it works with anyone's airtime. Like an unlocked cellphone, this increases the versatility of the antenna. Plus, the v45C functions under a pay-what-you-use model, great for smaller boats with low overhead.
"For a smaller vessel that needs just a little bit of email connectivity, or needs to talk to their wife and kids occasionally, or needs to report their catch, they can just pay for a small amount of data," Comyns said.
But then, of course, the high-speed internet is at hand as well, something that Comyns added is increasingly becoming an expectation at sea, no matter the size of the vessel.
Read the original article here.