Behind Intellian's Remarkable Success: An Exclusive Interview with CEO Eric Sung
The world of satellite antenna design and manufacturing has become increasingly complex. Not long ago, stabilized parabolic antennas and stationary geosynchronous satellites met the needs of most mobile VSAT applications. Today, the new crop of emerging MEO and LEO constellations is challenging the limits of antenna design.
Antennas must now accommodate constellations of multiple frequencies and diverse orbits and track spacecraft 24/7 across the skies. No company we know has done more to meet the challenge presented by NGSOs than Intellian Technologies.
Led by CEO and Entrepreneur Eric Sung, the company, founded in 2004, has grown from a $10 million to a $120 million leader in the mobile VSAT antenna industry. The company that began a simple, stabilized maritime antenna now leads the industry with a product line of innovative new antennas, including the first Tri-Band, the v240MT, installed on over one hundred of the world's cruise ships.
To find out more about Intellian's remarkable success, Eric's plans for the company's future, and the state of the mobility VSAT industry, we caught up with Eric at the company's West Coast headquarters.
SMW : Intellian has grown rapidly. Can you give us your outlook in Cruise, Cargo, and Energy markets through 2023?
Eric Sung (ES) : Cargo : Over the last few years, there has been a lot of restructuring in the cargo shipping industry. Driven by resurgent demand for consumer goods, the industry is well on its way to recovery.
To compensate crews for an extended time at sea and COVID restrictions on disembarkation at ports of call and accommodate the increased use of IoT and business applications, more ships are adding VSAT connectivity and upgrading to higher bandwidth.
While a few years ago, a ship crewed with twenty-five seamen managed with a two Mbps downlink and a 500 Kbps uplink, today, it's not uncommon to see four Mbps downlinks, and usage of giga bytes per day. Bandwidth pricing is also moving from pay-by-use to unlimited, fixed pricing services.
While most of the traffic is still over the downlink, the use of IoT applications is increasing and, in the future, uplink traffic is expected to increase. To meet the increase in demand, those vessels already equipped with VSATs can upgrade to our new NX series.
Cruise : Cruise remains challenging as ships remain banned from sailing from U.S. ports.
On the brighter side, the outlook is improving. Today, all of the cruise lines are preparing to resume operations sometime this year, and they are still building new ships, all of which are very large and require high-throughput VSAT antennas. So, the demand for v240MT antennas on the new builds has been relatively unaffected.
While retrofits have been slow, we are just starting to see an increase in that business. Some companies feel that it's an opportune time to refresh their systems to prepare for the rising demand.
As you know, Cruise lines compete primarily with all-inclusive land resorts, which have access to high bandwidth. So, they need to offer competitive connectivity to retain and attract new customers, especially the younger crowd. Cruise companies know that home-like connectivity is strategically important to their business. It's also a high-margin profit center, second only to their onboard casinos. We're well-positioned to take advantage of the demand for higher performance connectivity.
With O3b and our v240MT, we can Tx and Rx 650 + Mbps bi-directionally. Carnival has installed over two hundred v240MT antennas. Bandwidth demand is now multi-Gigabit per second on larger ships, and some are deploying five or six antennas. They dedicate two for O3b and two for Ku and C-band, and all of the capacity can be channel bonded.
Uplink traffic has also increased due to posting videos on social media and the increase in IoT applications. That's why we are installing a very high-powered BUC on our antennas. So, from our perspective, we expect significant improvement in v240MT Cruise sales.
Energy : The Energy industry has been a difficult market. However, we have recently seen a rise in oil price from $10 mid-pandemic to around $60 today. So, despite the shift to green energy and electric cars, there is a reason for optimism.
As you know, the oil price is a crucial determinant of their spending. So, as the oil price increases, the industry has more budget to spend on technology. That's why we see an increase in demand for the v240MT for offshore rigs and platforms and smaller antennas for offshore service vessels. We're shipping a lot of these antennas to Brazilian operators and other Majors. Oil, product, and LNG carriers are also doing well, and we consider them as part of the Energy segment. 
SMW : Are you planning to diversify into other markets - land, aero, or military? 
ES : While we continue to invest in maritime, enterprise and military will also be a focus. We are currently developing MEO-LEO parabolic and phased array terminals for enterprise, cell backhaul, rural broadband, mining, education, civil government, disaster relief, and military markets.
For example, we are building a wide range of terminals for OneWeb and have developed one for SES O3b. We're also setting up an office in Maryland that will focus exclusively on Ku and Ka-band phased array antenna development.
SMW : Given the emergence of MEOs and LEOs, what impact do you expect they will have on satellite communications terminals, and how will Intellian accommodate the shift to NGSOs? 
ES : We expect demand for NGSO antennas to grow significantly by 2024 and are developing products that support LEO and MEO constellations in maritime and enterprise markets.
With the introduction of these new constellations, I expect to see a migration from GEO to NGSO. We have foreseen these developments, and that's why our NX series of terminals feature upgradability to NGSO capability.
Current owners of an NX antenna can add a second antenna to accommodate NGSO tracking, which will work in tandem with their existing antenna to provide "make before break" connectivity. In addition, as I mentioned previously, we have already invested significant resources in the development of phased array antennas, which will also be useful in LEO and MEO markets.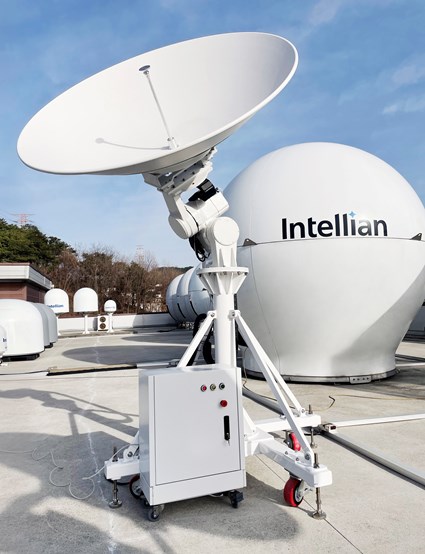 SMW : Tell us more about your Intelligent Mediator? How does it function in a multi-orbit environment? Can it handle GEOs, LEOs, and MEOs simultaneously? 
ES : Today, it's not unusual to find multiple antennas deployed on large Cruise and military vessels. Carnival has four or five v240MT antennas. They usually dedicate two for O3b, one for C-band, and two for Ku-band.
When ships are going through an area with lots of rain, the Ka-band antennas shifted to C-band or Ku-band to avoid a drop in throughput. Every satellite constellation and frequency combination is possible. So, an intelligent device has to manage the change in frequency and satellite orbits. That's the function of our Intelligent Mediator.
The IM is constantly evolving. It works on all brands of VSAT antennas, and our third-generation product will support channel bonding.
SMW : Intellian has developed a series of antennas that manage gateway uplink connectivity for LEOs. Can you tell us more about the antennas you are developing for NGSO gateways?  
ES : We are developing a new gateway platform for LEO-MEO-HEO constellations in the 2.4 to 4.5-meter aperture ranges and have already demonstrated 1 Gbps speed on OneWeb satellites using a 1.5-meter gateway platform.
Because LEOs and MEOs operate closer to the earth than GEOs, gateway antennas can be smaller. However, because of the large numbers of satellites in these constellations, a corresponding number of gateway antennas is required. They have to operate in very challenging environments, from desert heat to arctic cold without a radome, and they must run continuously, 24/7, 365 days per year, and work at a very high level of tracking accuracy.
Therefore, the antennas we have in development are different from existing antennas. They use a very high-power servomotor, a 100-watt BUC, and special software for monitoring, control, and configuration. Even though no antenna manufacturer has proved themselves in this very challenging NGSO gateway market, with over two decades of success in maritime and other challenging industries, we believe we can set the standard for performance and reliability in this challenging new market. 
SMW : Given LEO capabilities, isn't it conceivable that LEOs could be popular in maritime markets? As LEOs require either a dual parabolic antenna solution or a phased array, wouldn't a phased array solution be a preferable solution, given the high cost of a dual parabolic antenna tracking solution?
ES : When comparing parabolic and phased array antennas, it's important to note the differences in performance relative to pricing.
Some high-end phased array players price their 1.00-meter terminals in the $30,000 range, yet the antenna performance is only equivalent to a 37 cm parabolic antenna. In comparison, a 45 cm parabolic terminal is less than $12,000.So, two 45 cm antennas working in tandem would be price competitive with a $30,000 phased array in a MEO-LEO application.
Over the next five years, I expect the performance of phased arrays to improve, but I also expect the price of parabolic antennas to fall. So, while phased arrays may be preferable in some enterprise applications, dual parabolic solutions will remain competitive. Pricing at the consumer level is much more challenging.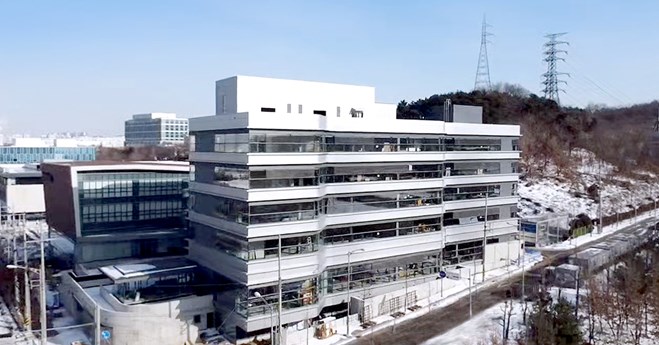 SMW : Intellian has announced a new R&D center in Korea. Intellian has a history of significant investment in R&D, more than most companies. What products have resulted from that investment, and can you tell us what products are currently under development? 
ES : We founded Intellian in 2004,built our current innovation center/factory in the middle during the financial crisis in 2009, and opened it in 2010. At that time, our corporate revenue was less than $10 million. Today, the original building is at capacity and in the middle of another crisis, we are investing $10 million to build a new R&D facility, which will significantly increase our R and D facility's size and triple the space available for manufacturing.
To staff the new facilities, we have been focusing on hiring a lot of new, highly experienced engineers. At the new center, we'll focus heavily on developing the new phased array product line, the new gateway antennas, and new platforms to support LEO-MEO customers. 
SMW : You recently introduced the C700 Iridium antenna. I understand that the antenna uses 12 phased array patch antennas. Is the L-Band patch antenna design unique and, if so, what are its advantages? 
ES : Several months ago, we launched the Iridium Certus terminal, which uses a phased array technology. We invested heavily in this technology, including the twelve different patch antennas, which enable the antenna to maintain connectivity, especially at low look angles, a condition that often occurs in rough seas.
Our partners' feedback on the antenna's performance and features available has been excellent. Because it supports700 Kbps on the downlink, this terminal is being used by partners both for VSAT backup and also as a primary terminal. It is a very versatile premium product, and we see installs across all markets and vessel types. We expect significant demand for it in the next 12 months as customers get to experience the features and performance it has to offer. 
SMW : You recently followed the introduction of the v60e with a new v45C Ku-Band stabilized antenna, thereby increasing the product offerings in your compact antenna product line. Where does v45C fit, and what makes it unique? 
ES : While the v45C is small and light, weighing in at only 23 kg, it offers excellent performance at a reasonable cost. It's an "open platform" antenna optimized for any GEO HTS Ku-band satellite. It features the same popular Aptus software platform supplied with our NX Series, which provides guided installation and configuration and performance management through a Web interface or mobile application.
We see great demand for the v45C in fishing, leisure, and sub-sectors within commercial maritime, including vessels operating in coastal or inland waters. Soon, we will have Ka-band and MEO-LEO versions as well.
Through such products, we can make VSAT more accessible and transform connectivity for smaller boats and vessels, bringing Intellian innovation and reliability to new markets. 
SMW : You have also built a new European Headquarters in Rotterdam. Can you tell us more about it? 
ES : EMEA has been a key area of growth for Intellian, with some of our most loyal partners based in the region. It's key as part of our commitment to the region that we continue to invest in our infrastructure.
In addition, with our entry into enterprise, cellular backhaul, and military markets, a robust European presence is essential. So, despite the pandemic, we decided to build a European headquarters in Rotterdam.
With the new facility, we will triple our warehouse capacity and provide an enhanced service capability and training for our European customers. I think we will be able to move into the new facility this summer. In addition to our presence in Rotterdam, we will open a new office in London. That's all part of our global expansion strategy.
SMW : You recently announced your 2019 revenue, which was around $100 million. What is your revenue outlook for 2021 and 2022?  
ES : We generated $110 million in revenue in 2019. While our revenue was flat last year, during the pandemic, I am expecting more than a twenty percent growth in revenue in 2021.
Our corporate plan is to maintain that level of growth every year for the next ten years. With a much wider portfolio of products for maritime, enterprise, land, military, including phased arrays and an improved post-pandemic economic environment, we are confident in our ability to reach our goals. 
Read the original article here
About Intellian Technologies
Intellian is a leading global technology and solutions provider for satellite communications, empowering connectivity for the maritime, government, military, energy, cruise and enterprise sectors. Founded in 2004, Intellian is renowned for its innovative design, future-proofed technologies and outstanding customer support, which combined with continued investment in its partners, logistics network, quality control and low environmental impact production facilities make it a trusted enabler within the satellite communications industry. Its bold, pioneering solutions include the award-winning v240MT – the world's first tri-band, multi-orbit antenna system – and the future-proof NX series antennas, optimized for high performance and low cost of ownership.
Intellian has a global presence with over 400 employees, 12 regional facilities and five logistics centers on three continents. The Intellian 24/7 global support desk provides dedicated assistance to 550 service provider partners and their customers in mission-critical environments. Intellian Technologies Inc. is listed on the Korean Stock Exchange, KOSDAQ (189300:KS).
More information may be found at www.intelliantech.com