A spectacular Satellite 2019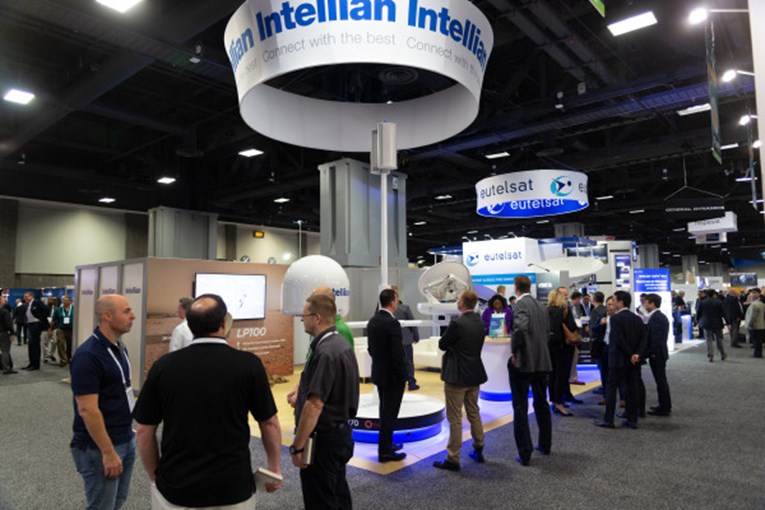 With four new products on display, the v150NX launch, an award win for the v240MT, as well as the announcement of the OneWeb partnership over the four-day event, our booth proved to be a popular place to visit during what was our 10th year exhibiting at Satellite 2019 in Washington, DC.
Revealed at Satellite 2019, the Ka version of the world's first and only 1.5m Ku to Ka convertible VSAT was shown to visitors. The v150NX Ka is also compatible with future 2.5GHz Wide Ka-band networks and has delivered speeds of 830Mbps in trials already.
With GEO/MEO/LEO tracking capability, the v150NX Ka delivers unmatched performance today and is ready for operation with forthcoming new high-speed and low-latency networks.
Based on our cutting-edge NX platform, both the v150NX and v150NX Ka enable reliable, high-throughput broadband at sea. A single cable designed means they can be quickly installed while latest AptusNX software automates commissioning. Both can also deliver precise, cost-effective satellite tracking as a land gateway antenna system.
Alongside the v150NX Ka, we also highlighted the expansion of our diverse portfolio with the launch of more new and innovative satellite communication technologies, including; the LP100, man-portable, military spec land terminal; the all new GX100NX for use on the Global Xpress network; and the OW70 for LEO constellations.
More information may be found at www.intelliantech.com
About Intellian Technologies
Intellian is a leading global technology and solutions provider for satellite communications, empowering connectivity for the maritime, government, military, energy, cruise and enterprise sectors. Founded in 2004, Intellian is renowned for its innovative design, future-proofed technologies and outstanding customer support, which combined with continued investment in its partners, logistics network, quality control and low environmental impact production facilities make it a trusted enabler within the satellite communications industry. Its bold, pioneering solutions include the award-winning v240MT – the world's first tri-band, multi-orbit antenna system – and the future-proof NX series antennas, optimized for high performance and low cost of ownership.
Intellian has a global presence with over 400 employees, 12 regional facilities and five logistics centers on three continents. The Intellian 24/7 global support desk provides dedicated assistance to 550 service provider partners and their customers in mission-critical environments. Intellian Technologies Inc. is listed on the Korean Stock Exchange, KOSDAQ (189300:KS).