NX Series systems combine with Satcom Global's Aura network to transform global maritime connectivity
Merchant Market - NX Series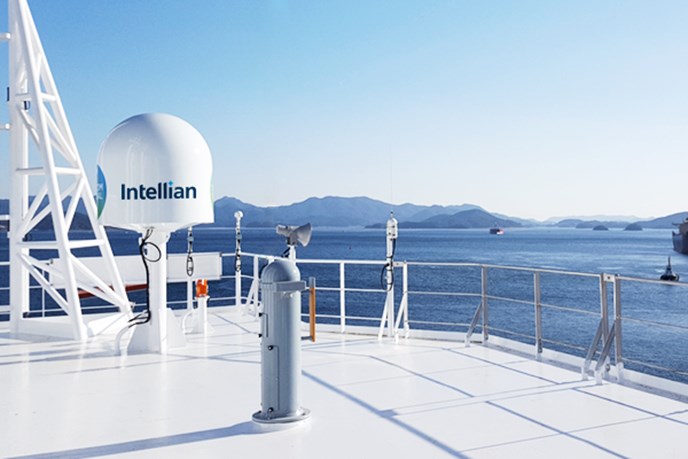 Customer: Satcom Global
Market Sector: Merchant
Required Features: High quality, reliable communication, swift installation, rapid deployment
Challenges
Delivering high quality, reliable communications with maximum uptime on global shipping routes
Delivering high throughput services to cope with maritime industry data demand
Streamlining satellite communication installations to fit customers' time-sensitive port schedules
Complex operations demand reliable communications, and the rapid expansion of global shipping routes has resulted in a premium being placed on continuous vessel connectivity. Keeping connected at all times improves the efficiency of vessel and fleet operations, provides critical safety solutions and enables crew welfare services.
Data consumption and bandwidth requirements have consequently escalated as companies identify new ways to gain meaningful savings in operational expenditure through areas such as crew retention, crew training and remote vessel monitoring. In addition, customers want to operate their vessels as 'an office at sea' using the same applications that they use for business on shore.
Key to meeting this demand is installing the next generation of communications systems. However, this must be achieved whilst minimizing the impact on vessel schedules, ensuring no unnecessary additional time is spent in port. Most customers operate on an extremely time sensitive basis, so installation must be simple and swift.
Solutions
Intellian NX Systems

AptusNX

Global logistics and installation capabilities

Future proof global network offering
Satcom Global has selected and deployed Intellian NX systems to deliver maximum performance on their Aura VSAT service, providing maritime customers with access to extensive global coverage and high-speed data packages. From a technological design point of view, the increased RF gain and automatic cable loss compensation across all NX models ensures that they perform well at the edge of the coverage area and in adverse weather conditions, making them the perfect solution for maritime customers trading globally.
The NX systems encompass all of the best features of previous series and more, resulting in a series of systems that deliver on multiple levels, with a range of antenna sizes able to provide the same core benefits to different vessel types. The industry-leading v85NX is ideal for supplying reliable, high quality communications to vessels with space constraints or on a limited budget, providing performance previously synonymous with larger antennas. The core product for commercial shipping customers is the v100NX, building on the success of the previous v100. Providing significant power and performance for high-bandwidth packages. The second largest antenna in the range, the v130NX, can deliver NX performance right to the fringe of network beam coverage, making it suitable for customers trading in the most remote locations, such as an ice-breaker trading in the harshest conditions, and for vessels taking new shipping routes.
"We feel with NX, that we have the best hardware solution available to deliver Aura to our valued customers," said Alex Stewart, Chief Operating Officer, Satcom Global. "The introduction of the NX Series has ensured that our customers across all markets and regions now have access to the same great technology and user experience, regardless of vessel type or communication needs."
"Intellian NX systems are also non-geostationary satellite ready, including MEO and LEO, allowing us to be confident that they can support a wide range of possible developments to the Aura network in the future."
As well as the outstanding on-vessel performance afforded by the NX Series, installation is straightforward thanks to a holistic approach encompassing all stages of the process, from shipping to commissioning. Pre-slung in compact crates, NX antennas can be simply lifted straight into position onboard the ship. The footprint has been designed for maximum compatibility with previous fixtures, and the antenna is connected using a single cable which carries both data and power, outside the dome envelope to avoid the need for removal. A built-in mediator in the BDU (Below Deck Unit) allows dual antennas to work seamlessly together, automatically switching to the antenna with the strongest connection to the satellite.
Once physically installed and connected to its ACU, an NX antenna is simply and rapidly commissioned using the built-in, browser-based AptusNX interface. This management and control platform can be accessed both locally and remotely, allowing for off-site technicians to complete the process and for expert support and monitoring in future.
Delivery of complete antennas and spares is swift and cost-effective thanks to Intellian's five global logistic centers, allowing Satcom Global to obtain what they need with minimum lead time, anywhere in the world. This process is further facilitated by extensive parts commonality across the NX range, meaning more streamlined warehousing and improved ability for engineers to carry appropriate spares.
Benefits
Low cost and simplified dual antenna operation through the built-in mediator function for customers requiring additional redundancy

Hassle-free installation and commissioning, allowing customers to install in extremely tight in port schedules

Superior and proactive customer support tailored for maritime customers, further enhanced by the visibility and diagnostic capabilities of AptusNX 
The combination of the high-performance Aura network and Intellian's NX Series equipment powers a wide range of applications across customer vessels and fleets. With reliable and high-speed bandwidth, customers can support both business and operational applications as well as allowing communications access to support crew welfare at sea.
Martin Bell, Global Engineering Manager, Satcom Global, said: "The built-in mediator has been of benefit to a number of customers who have dual antenna VSAT systems installed on their vessels. Not having to purchase a separate mediator results in a significant saving (approx. $8k) and additionally provides added redundancy for operators. Should a problem or blockage occur, it will simply switch to the second antenna automatically."
"The improved AptusNX software has also been a big plus for Satcom Global's engineering teams and customers, supporting a simplified and quicker installation process," Bell continued. "AptusNX is operated by simply plugging a laptop into the ACU without any need to download extra software. The installation wizard, with a step-by-step commissioning guide, makes it extremely easy to complete the setup. With regards to installing the antenna, the single coaxial cable – combining the Rx, Tx and power into one cable – makes for a quick and easy install. No need to remove the dome, either."
Alex Stewart, Chief Operating Officer, Satcom Global, added: "Intellian NX terminals provide great visibility of the hardware onboard and help us to deliver a superior customer service experience. The AptusNX web portal enables enhanced diagnostics and remote support, ensuring the Satcom Global support team can proactively investigate issues and monitor and maintain a high-quality service with minimal downtime. A quick and trouble-free installation also saves our customers expense with less hands-on time required from the engineer."
Contact Us
For further detailed information on the Intellian products and solutions shown here, please submit your request using this convenient form.