Intellian and the Grupo Arbulu Partner to Deliver Cutting-Edge Maritime Connectivity Solutions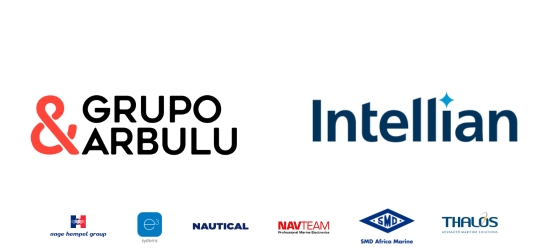 Pyeongtaek, South Korea – Intellian Technologies, Inc., the leader in global satellite content connectivity solutions, and Grupo Arbulu, a global technology and innovation leader in the maritime industry, have announced their partnership, to deliver high-end and reliable, cutting-edge maritime connectivity solutions within the industry.
Combining Intellian's advanced communication technology and Grupo Arbulu's expertise in maritime solutions, the partnership will integrate customised communication solutions that meet the specific needs of their partners and customers. This will include the integration of Intellian's satellite antennas and terminal systems with the most advanced maritime communication platforms, ensuring seamless connectivity and optimal performance for vessels across multiple markets.
"We are excited to partner with Grupo Arbulu´s companies to deliver their most advanced maritime connectivity solutions to customers," said Matthew Humphreys, Senior Sales Director at Intellian. "With our combined expertise, we will be able to provide highly customised and reliable communication solutions to meet the unique needs of the maritime industry. Our regional logistic centres allow Grupo Arbulu´s companies to be able to rely on us 24/7, consistently providing them with the support to efficiently deliver to customers."
Grupo Arbulu brings over 50 years of experience in the maritime industry, providing innovative technology solutions to a range of clients worldwide. Their expertise in maritime communications systems, navigation, and vessel performance management will enable them to provide valuable insight and support to Intellian in developing cutting-edge communication solutions.
"Intellian is a leader in satellite communication technology, and we are thrilled to partner with them to bring the best in connectivity solutions to our clients," said Iñaki Arbulu, CEO of Grupo Arbulu. "Partnering with a company of Intellian's stature and reputation will allow us to provide our customers and partners with best-in-class connectivity solutions across a range of vessels. Intellian's regional logistics centres and global support enables Grupo Arbulu´s companies to provide fast and efficient delivery to our customers, with support on hand 24/7. This partnership makes a significant step forward in the maritime industry's drive to provide reliable, cost-effective, and sustainable connectivity solutions to vessels worldwide."
About Intellian Technologies, Inc.
Intellian is driven by a passion for innovation and an agile responsiveness to customer needs. As the crucial link between satellite networks and millions of people on Earth, Intellian's leading technology and antennas empower global connectivity across oceans and continents, organizations and communities. Strategic thinking, an obsession with quality and a proven ability to deliver enables Intellian to invent for the future, creating mutual success for partners and customers as the world's connectivity needs evolve. For more information, follow @intellian and visit intelliantech.com. Intellian Technologies Inc. is listed on the Korean Stock Exchange, KOSDAQ (189300:KS)
About Grupo Arbulu
Grupo Arbulu is an industry-leading group of 9 companies specialized in marine electronics and satellite communications products and services known for its extensive experience in different maritime sectors: fishing, shipping and mega yachts. We are highly committed to the digitalization of the maritime industry through our different companies, each one leader in its own niche market. We represent leading brands in the marine electronics and satellite communication market and have our own R&D departments to offer our clients the most innovative and efficient solutions highly adapted to their needs. Grupo Arbulu has 41 offices in 25 countries and 570 employees around the world.
The following companies are part of Grupo Arbulu:  Nautical, Marine Instruments, Aage Hempel Group, Thalos, e3systems,  Silecmar,  Navteam, SMD Africa Marine, and Radio Electronic.