Intellian supplies shore-based data analysis and control solution for the SEA-KIT Unmanned Surface Vehicle
Seabed mapping - v60 VSAT antenna system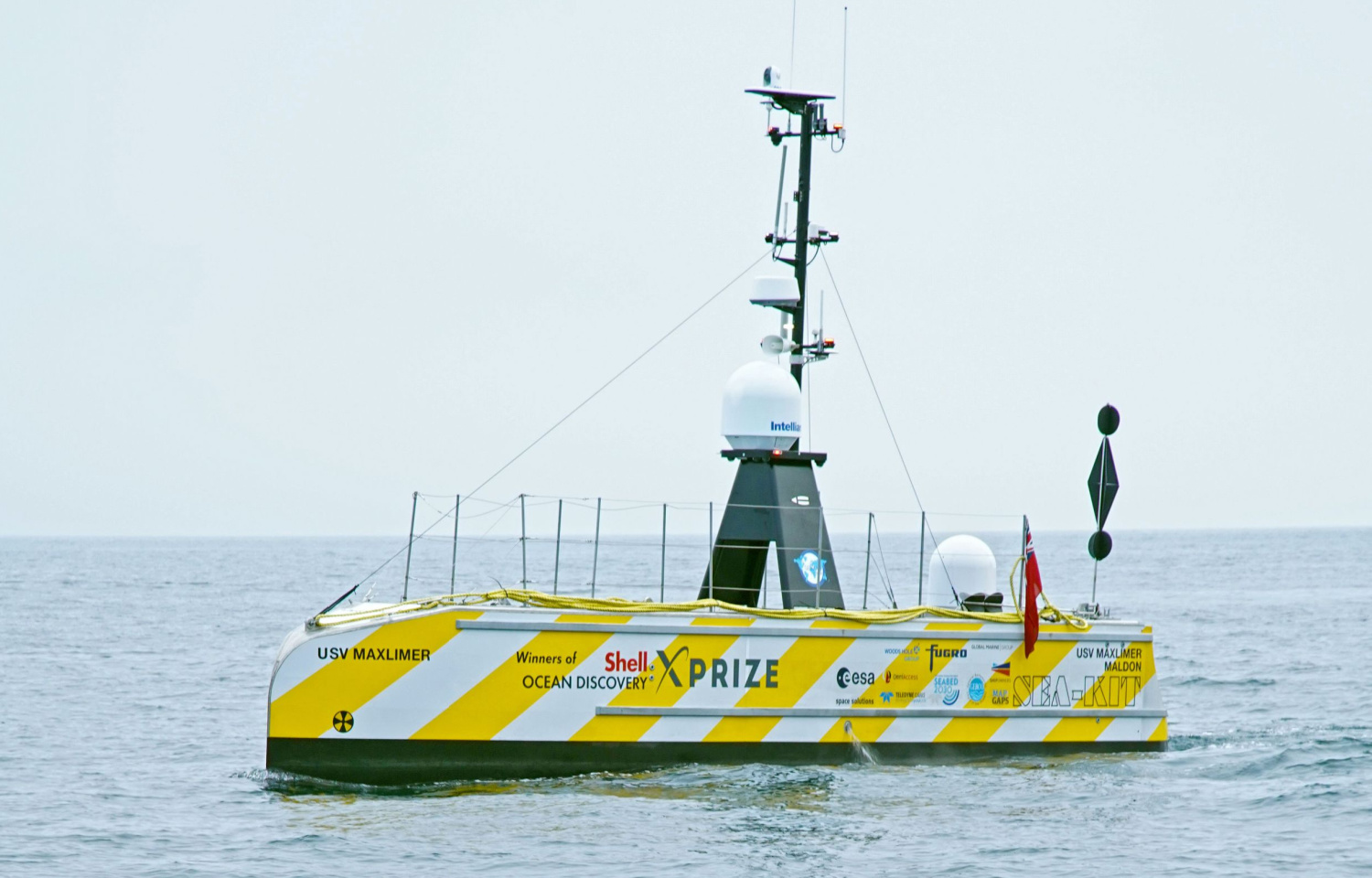 Photo source: Richard Edwards, ENP
Customer: SEA-KIT
Patner: OMNIACCESS
Market Sector: Seabed mapping
Required features: High-bandwidth vessel-to-shore data link, compact antenna size, affordability, reliability
Challenges
Need for a reliable, affordable, high-bandwidth vessel-to-shore connectivity solution
Compact and lightweight antenna size required
Higher-power BUC required to compensate for reduced aperture
As regulations governing emissions, fuel consumption and safety become ever more stringent, it's hardly surprising that the maritime industry is looking more closely at introducing remote and automated processes on vessels wherever possible and practicable. And for anything but the most local operations, the key element is satellite technology.
While a one-off vessel might potentially carry the equipment needed to function autonomously on board, once automatic operations are considered at fleet level the space and capital expense required to install the necessary hardware on multiple vessels soon demonstrates that it makes far more sense to centralise data analysis and control to a shore-based facility. However, this approach requires a means of reliable, high-bandwidth information exchange between the vessel and the shore.
This was the conundrum facing the staff behind the SEA-KIT, a radical, long-range, long-endurance 12m USV (Unmanned Surface Vehicle). Discussions on the most efficient way to achieve their aims led to a meeting with telecommunications service provider OmniAccess when the two companies met at Oceanology International London in 2018. The process of carrying out an appropriate installation to enable this remote-control functionality was not without its potential snags, as Jorge Calvin, Senior Account Manager, OmniAccess, remembers.
"The main challenge in installations such as these is how to push large bandwidths with low latency from the USV to shore using a small, lightweight and low-energy-consumption antenna system," Calvin comments. "The minimum aperture antenna size for current geostationary satellites is typically a 60cm dish: these state-of-the-art antennas need to be light and small enough to fit USVs, utilising higher-power BUCs to increase bandwidth due to the reduced aperture."
Solutions
Intellian Aptus management and control software
OmniAccess opted to install Intellian's v60 antenna on the SEA-KIT. "It's a proven and reliable system," Calvin reasons, "as well as possessing the required 16W BUC power. This was an obvious choice for us to make as we've had more than 60 vessels using Intellian's v60G for a long time, and these antennas have proved to be very easy to install and operate. For example, they can work without gyro input, and cabling is minimal. Also, the Aptus system control software helps us a lot in both remote and onsite troubleshooting: it's very user-friendly, and even allows us to monitor the BUC status."
Thus equipped, and irrespective of being out of direct line of sight, the SEA-KIT receives command signals from the control center to manage both the craft and its payload, and in turn sends back a secure and timely range of situational awareness sensor information, giving operators remote access to radar, CCTV and thermal imaging footage, for example, while also enabling communications to be established with nearby vessels.
'Link stability and integrity are obviously vital when you have a remotely-controlled vessel in the middle of the sea,' Calvin comments. 'The last thing you want is to lose control, and this is not restricted solely to the VSAT link, per se, but right across the end-to-end link from the vessel to the control centre, wherever it is located.'
Benefits
Verifiable communications availability of almost 100%
2019 Shell Ocean Discovery X-Prize award winner
Future-proof antenna design is LEO-ready
24/7 after-sales support
With multiple VSAT backup links, plus the ability for remote operators to monitor all onboard communications and instantly switch between VSAT beams and WAN (wide area network) services, SEA-KIT has reported a verifiable communications availability of almost 100%.
Equipped with its Intellian v60 antenna system, the SEA-KIT won the Shell Ocean Discovery X-Prize for Advancements in Autonomous Ocean Exploration in May 2019 after successfully mapping 250km2 of ocean floor in a 24-hour period at a 5m horizontal resolution. Three weeks before the prize win was announced, SEA-KIT also achieved the first autonomous commercial crossing of the North Sea, navigating through notoriously congested shipping lanes to transport 5kg of oysters from Britain to Belgium.
Furthermore, in August 2020, the SEA-KIT USV Maxlimer completed 22 days of offshore remote survey operations, mapping the ocean floor on Europe's continental margin and controlled throughout from the firm's Essex-based Remote Operation Centre. These accomplishments all point to the efficiency of the vessel's over-the-horizon operation.
One factor which will play very favourably into the remote operation of vessels such as the SEA-KIT in future is the imminent proliferation of LEO (Low Earth Orbit) satellites, which will provide an increase of 10 times the bandwidth for the same antenna size, as well as drastically reducing link latencies. "LEO will offer truly global uninterrupted coverage," Calvin observes, "with increased reliability due to the large network of available satellites. As we see giant leaps in advancements to this space, so too are we seeing the need for greater improvements in cybersecurity: this will ensure unmanned vehicles and their communications remain secure."
OmniAccess is currently planning to launch services with a new generation of high-efficiency VSAT modems which will provide far higher ship-to-shore speeds, to which end it is maintaining its fruitful business relationship with Intellian. "They're a reliable partner and open to innovation,' Calvin concludes, 'and they understand the changing demands of our markets. We hope to soon be able to test Intellian's new 65cm v60NX antennas, which will bring with them a whole host of extra advantages."
Contact Us
For further detailed information on the Intellian products and solutions shown here, please submit your request using this convenient form.