NX Series wins best hardware award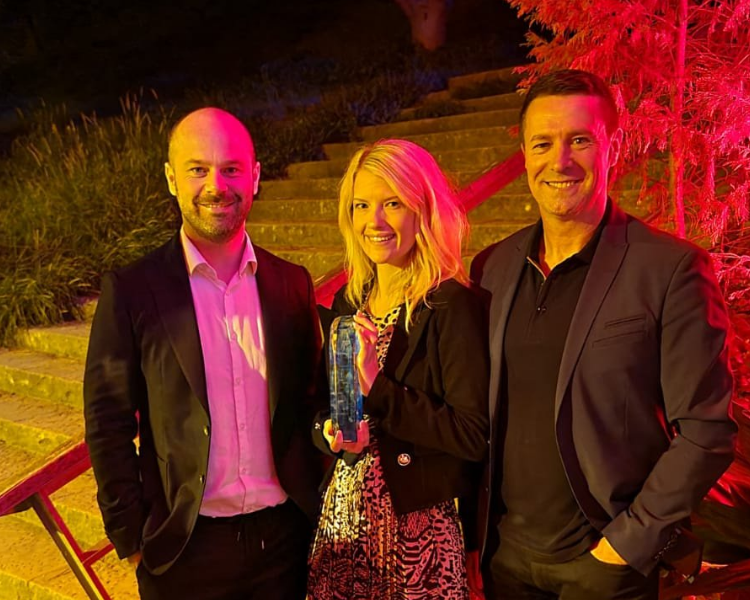 Matt Humphreys, Kelly Edwards and Jon Harrison with the Best Hardware award for the NX Series at the Superyacht Technology Conference in Barcelona.
Matt Humphreys, EMEA Director of Sales and Business Development, shares his delight at NX Series win for superyachts
As conferences and exhibitions are slowly appearing back on calendars here in Europe, it's been great to travel (where safe to do so) and meet with our partners and customers again after so long. This week we were in Barcelona to attend the Superyacht Technology conference. It's now a focal point for many, bringing together a wide range of truly innovative companies that all work in the superyacht industry.
On the opening day, Jon Harrison our EMEA GM gave an excellent talk on the insatiable demand for data and how thanks to converging technologies, satellite connectivity can fill the gap.
The highlight of the event was at the gala awards dinner, where our NX Series won Best Hardware. It's a product we're so proud of and was great to have its contribution to industry recognized. It was good timing too as my workshop on NX was scheduled the following morning! Satellite technology and networks are evolving rapidly, and superyacht owners and engineers along with their counterparts across the maritime world, rightly demand that new antennas should not only provide optimal connectivity now, but continue to maintain that level of service as new satellite services are launched.
At Intellian, we realized that the only way to meet this need was to invest in the future and design tomorrow's technology. With that goal in mind, we engineered our NX Series antennas to be flexible and compatible for current and future satellite networks, by collaborating with major VSAT network operators. This ensures that end users and vessel owners do not have to keep purchasing hardware to keep up with new technology as it becomes available.
In doing so, we created what have become the most popular VSAT antennas in the world. Ranging from 85cm to 1.5m, the NX Series boasts four world firsts: the first VSAT terminals which can be converted between Ku and Ka band operation and are compatible with geostationary (GEO), medium earth (MEO) and low earth (LEO) orbit satellite networks, and the first Ku-to-Ka convertible VSAT terminals in the sub-1m, 1.25m and 1.5m categories.
But we didn't stop there. Our radomes are specifically designed to increase receive gain and provide proven, best-in-class RF transmission. Conversions and upgrades – such as converting between Ku and Ka band or utilizing one of our optional higher-powered BUCs to handle higher data demands – are simply carried out by swapping modular components, and installation and maintenance are facilitated with single-cable connection and our custom-built AptusNX browser-based interface. This ability to easily swap orbit, band, network and power is key to our determination to keep the end user in mind, giving them flexibility and freedom of choice by making our products easier, stronger and faster. We've even considered the final installation and considered how it matches in size and shape with TV antennas onboard.
In the near future, we expect to see two significant developments to satellite provision: the proliferation of LEO and MEO constellations, and the increased adoption of 2.5GHz wideband Ka-band services. Combined, these technologies will dramatically boost data capacity and slash latency – the delay in network response caused by the round trip time of the signal between the satellite and antenna. The NX Series terminals are ready for both these innovations, able to utilize new network operators and high-throughput services as they come online.
A multi-million-pound business can't have downtime. Owners and fleet managers expect product reliability, good value and design aesthetics from their satellite hardware: the NX Series delivers all of that and more, in a high performance, easily upgradable package which is ready for the future.