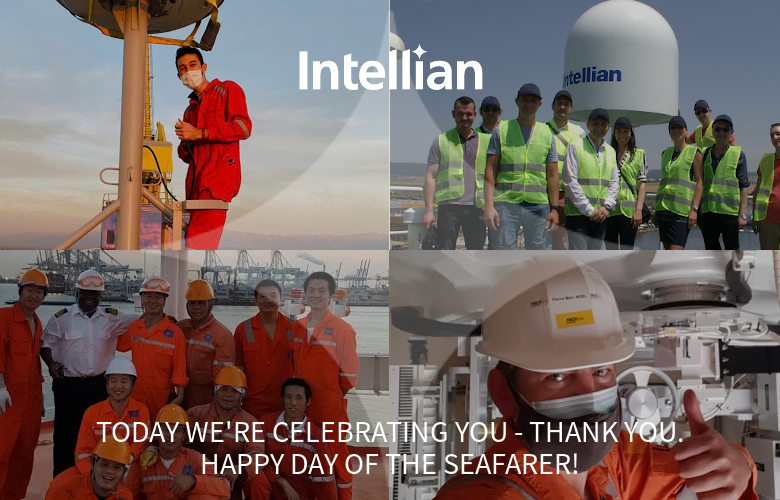 Jon Harrison, GM EMEA + Vice President Strategic Partnership, Intellian Technologies, recalls his colourful career at sea and explains why satellite communication and events such as Day of The Seafarer are so important for improving vessel crews' quality of life
I don't know if the layman appreciates how hard it is to be at sea. Seafarers make a massive contribution to society, and if there's one thing the pandemic has taught us, it's that online communication is crucially important. If a crew member isn't in touch with his family, it's as though he's missing in action; and COVID-19 has made this more apparent than ever before.
Online socialising is a godsend now in fact for many even a lifeline, but in my day it didn't exist! I studied telecommunication engineering at Lancaster University, and left for pasture new at 21. When I graduated, I was broke and looking for some adventure that could also line my pockets and there was a couple of options in front of me: one was to go into the Navy, which I did, and served as an officer for four years. Almost 30 years ago, if you wanted to call home, pretty much your only option was to make pre-booked call via the shipboard VHF radio, which was only possible when you got quite near to the shore. Even when the call managed to go through, the quality of the call was often a bit rough and you'd end up shouting down the radio to your mum who would only hear every second word, hence a lot of the time you wouldn't even bother; and you'd become very isolated as a result. 
Although upon reflection, I feel blessed to have spent some time at sea. It was often tough and on my first trip at sea, I remembered feeling very alone and isolated, in fact quite disconnected from the world.  My first trip took me directly to the other side of the world, deep into the Pacific Ocean.  When cruising the shipboard lights have to be off to allow the navigators to see clearly, so when you're on the deck, all you can see is the stars. There's no light pollution, and on the other side of the word the stars are appeared to be so different: With no ambient light around, you detect so many which you wouldn't normally see. In fact, my first experience of such a solitary and quiet experience, I went to talk to one of the longer service and experienced crew members and said to him, "My God, I'm in the middle of an ocean, literally thousands of miles away from anywhere, and I can't talk to anybody. I feel like a tiny, insignificant dot in the universe." It was a moment of profound anxiety.
After the Navy I left for the civilian world and became an electrical officer onboard various cruise ships and eventually became involved in the newbuild of more than ten vessels. This amazing experience, eventually set the platform to become more involved in the world of VSAT and here I am now just over 10 years with Intellian, and 20 years working within the satcom industry. Upon reflection, I'm in awe of how our wonderful satcom industry is evolving rapidly and making connectivity faster and more accessible. The reliable, always on connectivity that our industry has brought is a big, big step towards improving the seafarers' quality of life, which by all account is effectively bringing a comprehensively plugged-in experience at sea, which is long overdue. Habits are changing, so it's a brave new world for us all.
Although more and more because of Covid19, isolation and lock down has driven us all to use video conferencing almost like a cell phone, and video conferencing at sea has really become a big thing. The same can be said of Social Medial platforms and messaging applications such as WhatsApp, Instagram and of course Facebook. Intellian is extremely passionate, in fact compassionate, about improving the quality of life for the Seafarer and for our part, we're trying to make sure that connectivity is within reach for the shipowner, and it's not going to break the bank.
During the pandemic, global lockdown restrictions meant that many unfortunate souls were stranded on vessels for months on end at a time.  Communications became key in alleviating the isolation they experienced, which is of course an area in which Intellian can play a major role. But while it's reassuring to know that satellite technologies have been a virtual lifeline for desperately homesick crews over the past 16 months, initiatives like the Day of the Seafarer are vital in helping to increase recognition of the difficulties sailors face and in finding ways to improve their quality of life. A career onboard ship can be tremendously fulfilling – my time at sea certainly was – but even without the influence of COVID restrictions it's also a daunting one, especially for new crew. 
Satellite communications are now an essential part of maritime operations, both for Enterprise and for crew welfare. Here at Intellian it's been a truly amazing journey so far, however this is just the beginning. We genuinely believe that what we do can change lives. We're bringing supporting robust, always on, easy access connectivity to the masses.  For the hardworking, away from home crew member this is mandatory for their well-being and especially for their mental health – being able to keep in close touch with family and friends on a day to day basis, is of limitless value. We're proud to be a part of it.